A recent Aeration System Installation in Norway
A new Norwegian unit with a new shed for ox and cows with room for 250-300 animals for Ole Draugsvoll, Valle.
Our Norwegian dealers: Fjossystemer are currently building a construction that is on two floors and measures 1400 m2. Dairypower have installed their Smart Slurry Aeration System in the unit which will treat up to 4500 M3 of slurry.  The system is relatively simple because it employs a low energy consumption electric motor and roots blower pump, electric rotary valves and sdf-closing neoprene non-return outlet valve.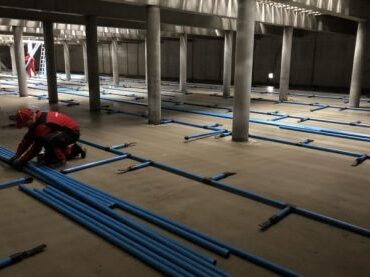 Low Running Costs
All the piping is 50mm class D uPVC which neither corrodes nor degrades. Working on a time switch, the system is fully automatic and would typically run for 3 – 4 periods each day without any need for human intervention. Furthermore, the running costs have been shown by independent evaluation to be as low as €1 per day.
The building is due for completion in the coming weeks and we're looking forward to visiting on our next trip to Norway!