Installation in County Kilkenny - Smart Slurry Aeration System
After seeing the benefits of having a Smart Slurry Aeration System, the Kelly family decided to choose Dairypower again to help them manage the slurry in the new cubicle house they built for their cows. Let's learn more about the systems they have on-site.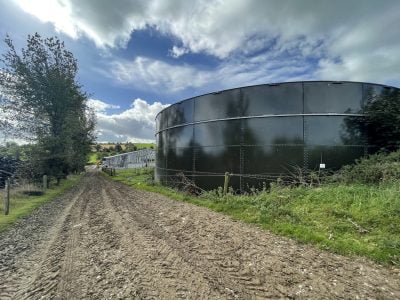 The Original System
Way back in 2008, we installed a Smart Slurry Aeration System in a steel round slurry tower on Kelly's farm. The tank held 1 million litres of slurry, which is quite a lot!
Making extra cost savings by running the aeration system mainly on night-rate electricity and once during the day, their Smart Slurry Aeration System allowed them to take slurry from their tank whenever they wanted. This is due to the fact that the slurry is kept in a homogeneous, pumpable state 365 days a year, with the aeration never giving the slurry a chance to crust or cause blockages.
The Kelly family noticed that since they were using their slurry more frequently with their trailing shoe system, they reduced their fertiliser costs significantly.
Their New Smart Slurry Aeration System
After seeing the success of their first system, In 2021, the Kelly family decided to give their farm an upgrade in 2021 by building a new cubicle house for their cows. With 280 cubicles and a lie back area for the calving cows, they wanted to replicate the success they found with their other Smart Slurry Aeration System.
With the new tanks being over 100ft long, it would be extremely difficult to agitate them with a tractor agitator. With the reduction in emissions by using a Dairypower system, they saw the Smart Slurry Aeration System as being the perfect solution to future-proof their farm, reduce costs and keep their animals safe.
The system was installed by Keadeen Dairy Services Ltd who are a Dairypower approved dealer from Kiltegan, County Wicklow. Only taking 2 days to fit the entire pipework for the aeration system, the power unit was installed at a later date when an electricity supply was available.
Ciarán O'Toole from Keadeen Dairy Services Ltd explained that the system costs less than €1 per day to run and that it is best practice to leave the aeration system running around 4-6 times per day. Cleaning the tanks for a retrofit in an existing tank is more simple than most farmers think, a reduction pipe will get the tank levels down to a minimum, and if needed a skid steer or back actor will get a swept clean finish on the tanks.
Watch the video below where Nicholas from the Kelly family catches up with Grasstec to talk about the smooth install of their new Smart Slurry Aeration System, as well as the many benefits they have seen so far.
Also, stay tuned for a chat with Lisa from the Dairypower team where she dives into a bit more detail about how the system works and how it could be perfect for your farming set-up.
Contact Us
Get in touch with our team to see how installing a Smart Slurry Aeration System could be the perfect farming upgrade for you to manage your slurry efficiently and in the most cost-effective manner.