In this case study, an aeration system solves slurry agitation problems for a Welsh cattle farm, improving slurry quality and reducing labour hours.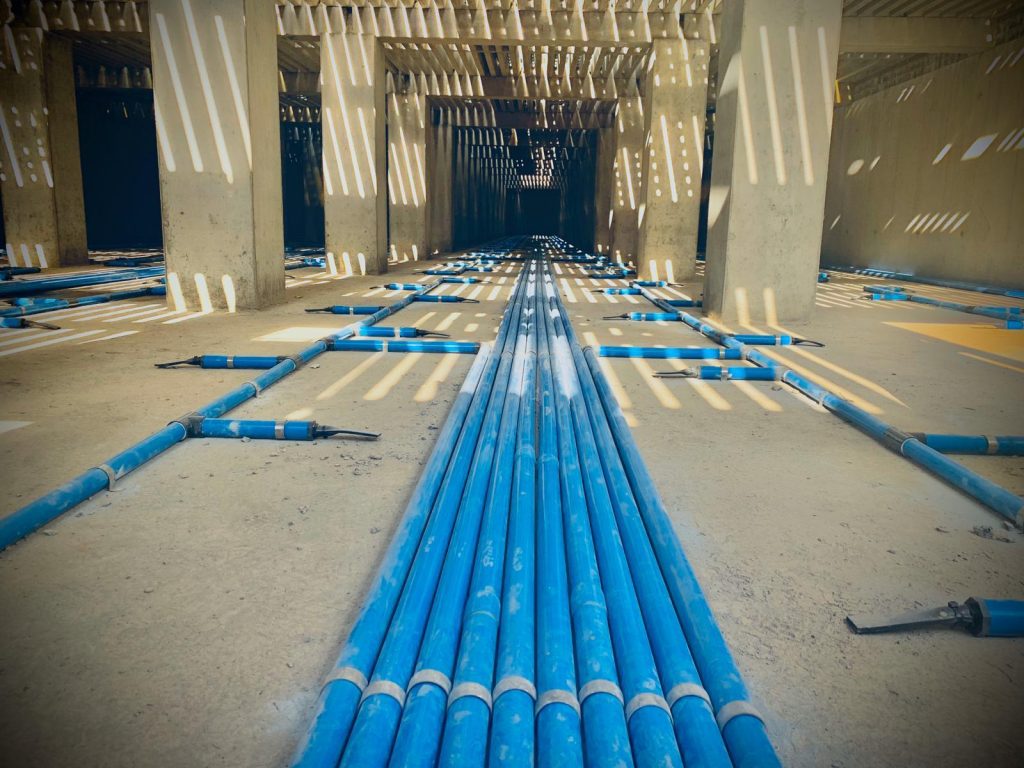 "Dairypower's cost-effective solution installed at Carl's beef farm"
In 2019, Carl constructed a new beef barn for 500 cattle at his farm in Pembrokeshire. To manage his slurry more efficiently, he installed an agitation and odour-reducing solution from Dairypower.
Background
Carl's farm has been at the heart of Pembrokeshire, West Wales, for quite some time. In order to modernise his operation in 2019, Carl decided to build a new beef barn. This expansion of his farming operation was the next step in Carl's plan to take his farm to the next level.
Trying to navigate the ever-changing laws and regulations about the quality of slurry, Carl had to ensure that his slurry was being managed safely and that animal welfare was at the forefront of his plans.
Want to know more about slurry and the solutions we can provide for these requirements?
Check out our video explaining how our Smart Slurry Aeration System works: 
The Challenge
For Carl to safely store and manage slurry at his new beef barn, there were a few issues to overcome. One of the most pressing issues was that his tank was fully suspended, which is rarer for our installation team. This type of tank can cause issues when the slurry needs to be agitated, ensuring that there are no dangerous concentrations of gases released.
With this suspended tank being a real worry for Carl, he needed to find a solution that would keep his animals safe, reduce the labour hours it takes to agitate a suspended tank of slurry and ensure that the slurry had an even consistency for extracting and spreading.
The Solution
Carl contacted the sales team here at Dairypower to find a solution to his agitation worries. He also wanted to ensure that the solution provided was safe and efficient. It can often be time-consuming and difficult to move cattle out and back into their barns just to carry out the agitation process.
Working closely with Carl and assessing his situation, Dairypower introduced their Smart Slurry Aeration System which they believed to meet all of Carl's needs. Suitable for Carl's beef barn, the system is able to keep slurry in a homogeneous pumpable state that is always ready to spread, 365 days a year.
With animal safety and well-being at the forefront of Carl's plans, the Dairypower aeration system works with a smooth, quiet operation that doesn't disturb the animals. The system can be operated automatically, aerating different sections of the slurry tank for set periods. Not only did this mean that Carl did not have to go through the process of tractor agitation, but the process helps to eliminate the build-up of dangerous gases such as methane and hydrogen sulphide.
Take a look to see how Carl's under-slat tank looked: 
Conclusion
When Carl was installing his new beef barn, he had some justified concerns about utilising his slurry and how agitating in such a large tank could be an issue. Thanks to the Dairypower Smart Slurry Aeration System, Carl can now extract slurry without agitation, keeping his animals safe and reducing labour hours.
"We built a new beef barn for 500 Cattle in 2019, and with the tank being fully suspended, agitation was a real worry. We decided to install the Dairypower Aeration System… We can't get over the quality of our manure! The first litre is like the last litre when applying to the land… and that's with no form of tractor agitation. For safety and efficiency, I would highly recommend this system!" – Carl Vaughan.
Learn More
If you think you could benefit from one of our slurry management systems or would like to learn more, get in touch with one of our experts who are always more than happy to help.