Dairypower's recent trip to Switzerland
Pat from Dairypower recently spend an enjoyable few days back in Switzerland visiting our dealer and touring some of their existing and new Dairypower Scraper Installations.
'Old Style' Headlock Barn
We visited three existing installations and were delighted to find they were running exceptionally well and performing as expected.  We also commissioned two new installations while there which featured our new digital control panel.  The digital control panel has many unique features such as frost protection, calving mode and cow down safety feature.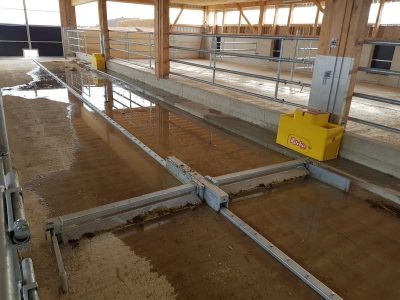 New Scraper Installation Commissioned in Grancy, Switzerland 
Dairypower is the foremost European designer and manufacturer of Automatic Hydraulic Yard Scraper Systems. Our patented scraper system has many unique features that make it the safest and most trouble-free system in the world. The Dairypower scraper system is hydraulically operated, which means fewer moveable parts and considerably less risk of breakdowns. Also see the Dairypower Hydraulic Rope Scraper System which incorporates a hydraulic motor and winch unit to clean barn alleyways.
All in all it was a great trip…and happily, much sunnier than our last visit!