One of the most exciting times of our business year is our attendance at the various trade shows, which are run for a range of sectors within the farming and agribusiness industries. Don't just take the word of our current customers who are very pleased with their custom installations! Come and witness our beautiful bespoke systems for yourself, in person at one of the many trade shows we appear at every year! These trade shows are held across the globe and we have become an important fixture at some of the most significant trade shows in the world.
In order to build our customer base and continue to strive for perfection, we like to attend these shows and let the farming industry and market know what we offer in the form of slurry management solutions. These shows are also an opportunity for us to have active discussions with our customers about their specific slurry handling requirements. Over the years we have had some extremely insightful conversations with these clients, which in most cases had led to lifelong business partnerships with these customers.
Most of our products are so forward-thinking that we entice many new customers with the exceptional savings our innovative products offer. All of our products are also run on programmable automated systems that can easily remove the need for any human to perform these tasks. As a farmer, you can assign your workers to complete other responsibilities on your farm, while our automated systems can clear your holding yards and passageways to the highest standard of cleanliness. 
Trade shows have evolved in recent years from simple industry networking events into immersive events designed to show off one's products and services, and we certainly have taken advantage of this.
Dairypower Slurry Solutions
Dairypower has established our industry-defining products as a staple of the slurry management industry. Since we introduced our unique products to the Irish market in 1998, we have grown from strength to strength to a position where we have installed tens of thousands of bespoke slurry management systems across the entire globe. Our top-of-the-line slurry management systems offer tailor-made solutions which can be custom installed to suit the exact shape and size specifications that your farm, holding yard or passageways require.
Since 2019 the UK government has introduced the Clean Air Strategy Policy, which is legislation that requires all farmers to reduce their gas emissions by 2027. In addition, the Irish government has also implemented their own Clean Air Strategy Policy in line with these environmental concerns, and here at Dairypower, we have created exclusive products to deal with these pressing environmental factors.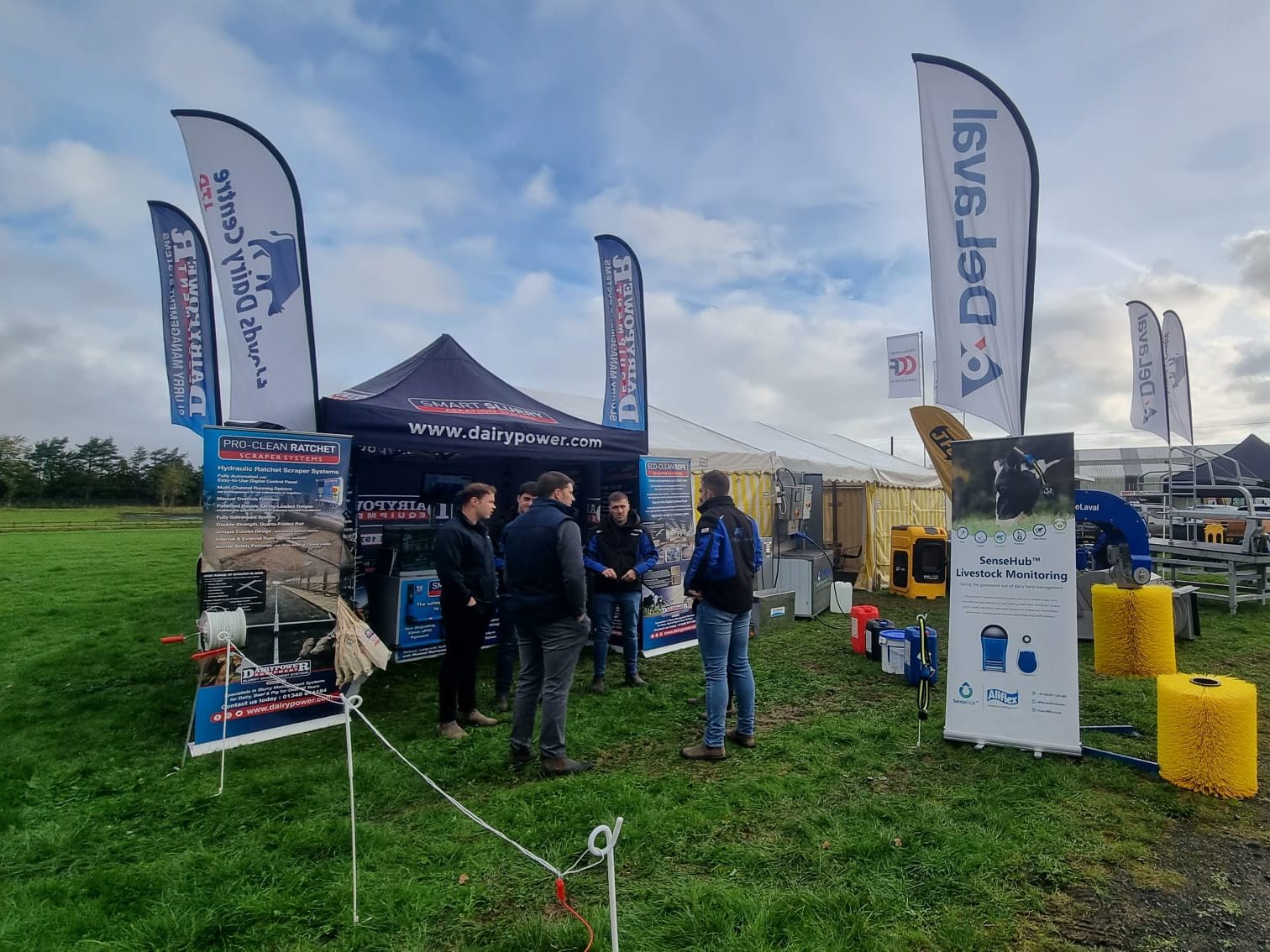 Huge Trade Show Footfall
Our most recent event was the Welsh Dairy Show 2022. This took place on the 25th of October 2022 when the Dairypower UK team were on hand to dish out slurry management advice to all attendees. This is a one-day event showcasing dairy animals from across Wales and the borders. The show features small and large businesses promoting all aspects of the Welsh dairy industry with top-class dairy stock on show. Dairypower UK is based in Fishguard, Wales so they were very lucky to have such a fantastic Agri show nearby.
This is where Dairypower excels as we usually set up our trade tent with demonstrations of each of our bespoke products, where anyone can come and see them in action and talk to our expert team about the operation process of each of these products. Our teams are also on hand to advise any customers about every aspect of their slurry management needs. This could range from slurry stores, scraper systems, the most efficient methods of slurry removal and storage, environmental factors and how we at Dairypower create exceptional eco-friendly products in line with the strictest government regulations. It is a common report from these shows that our tent has very eye-catching branding and facilities.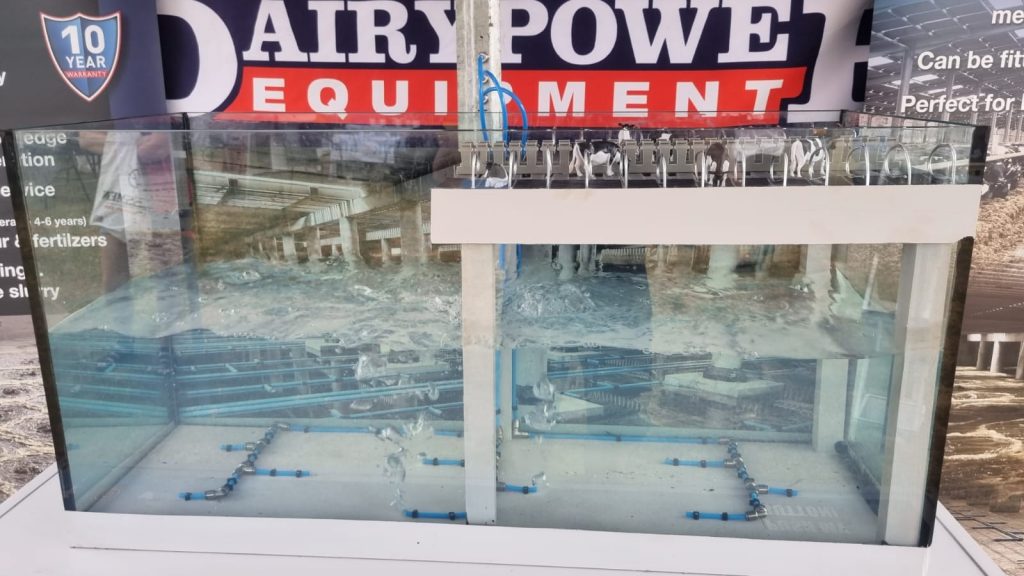 As we are unable to show a full-scale version of our flagship product the Smart Slurry Aeration System we have created a demonstration system with a mini version of this aeration system, fitted into a fish tank. As to be expected, this always attracts lots of interesting questions and feedback from passersby and sparks many kinds of conversation, some of which lead to orders of this system. Over 25 years of experience creating revolutionary slurry management systems and it still doesn't fail to amaze people!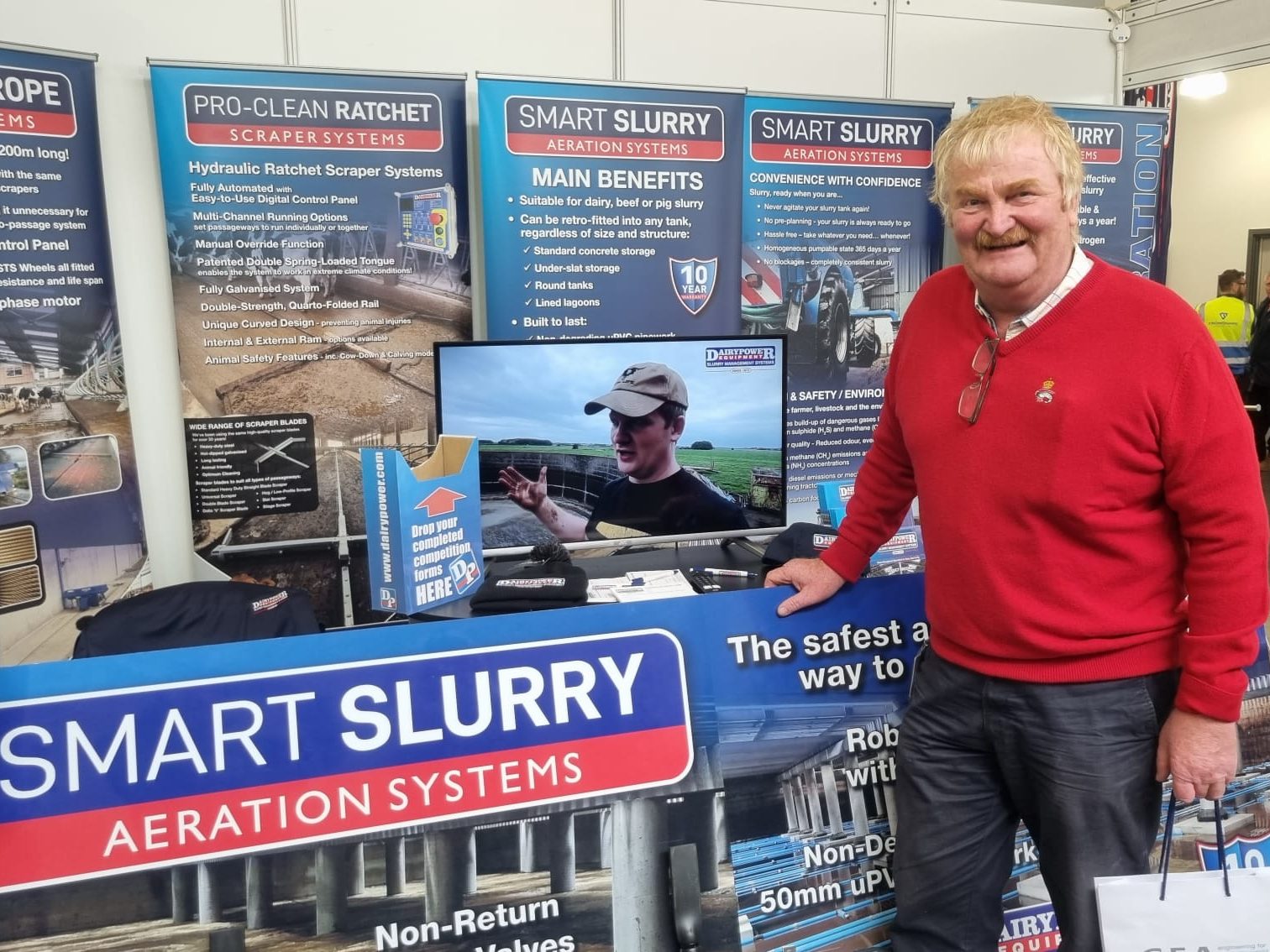 On Screen Visualisations
Recognise this familiar face? Andrew Pemberton even stopped by at DairyTech 2022 to watch himself and Tom on the stand screen and inform us of how happy he is with their latest Smart Slurry Aeration System installation!'
At the more recent trade shows, we have been displaying this video of Tom Pemberton's review of our Smart Slurry Aeration System which Tom has posted on his YouTube channel, Tom Pemberton Farm Life to great success. Our team has noted this always creates interest in potential customers, to view a custom installation and see this product in operation on a large-scale farming enterprise. 
In this regard, Dairypower strives to be one step ahead of the competition and many impressed prospects have noted that we provide more than the average marketing at these events. A trade show stand doesn't need to convince prospective customers to buy what you're selling, indeed that is your sales team's job. Instead, it needs to be a powerful and irresistible message that gets prospects to step into your stand and ask questions, which we are quite used to at Dairypower. 
Contact Fullwoodhead Dairy for any enquiries here: Fullwoodhead Dairy Supplies.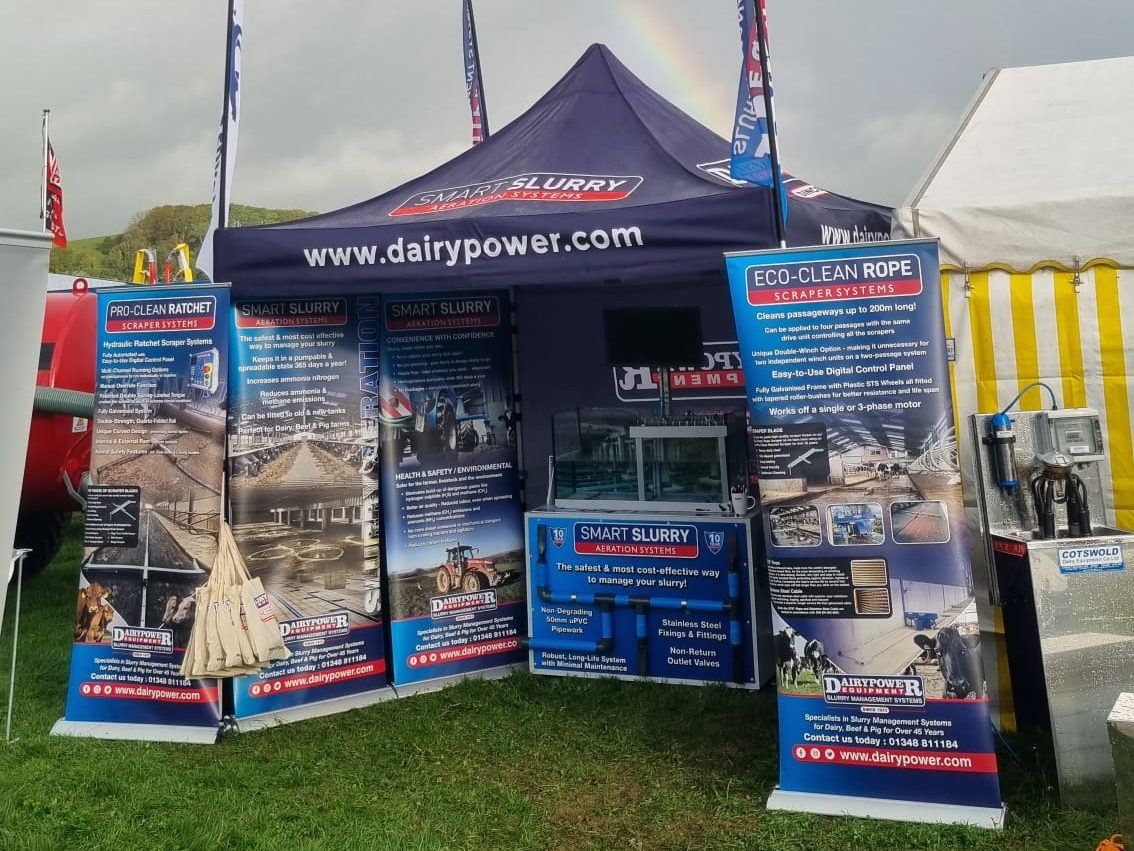 Dairypower Tent
Our trade show tent which makes an appearance at these shows is decorated with our Dairypower colours and branding. These are very striking blue and red colours which we have become known for, indeed even easy to spot from a distance when working on a farm. Using these colour schemes to our advantage we always draw in huge footfalls with our colourful displays and multi-level technology marketing that entices potential customers towards us. 
The human brain responds more powerfully to images and videos than it does to text, making full-motion displays a huge opportunity for your business to attract attention! We have paid attention to this trend and in collaboration with agricultural experts, we have various reviews and installations on the screen to show potential customers, in full operation. 
We like to give away our much loved Dairypower merchandise at these shows which displays our brand and leaves a lasting impression in the mind of our potential customers. We sometimes even host giveaways for our very valued customers. Creating a comfortable tent design indicates to our prospects that we excel in an environment which is market-friendly and highly supportive of our customers during each stage of the process. We always set up flags which move in the wind and are very striking, and often help people to find our tent. 
We also have our other flagship products Pro-Clean Ratchet Scraper System and Eco-Clean Rope Scraper System on display for people to view and talk to our team about. Call into our tent for the most up-to-date demonstrations of our slurry management solutions. With each farm being completely different, see how our team has adapted the products and treated each farm individually so the farmers always get the very best out of each install.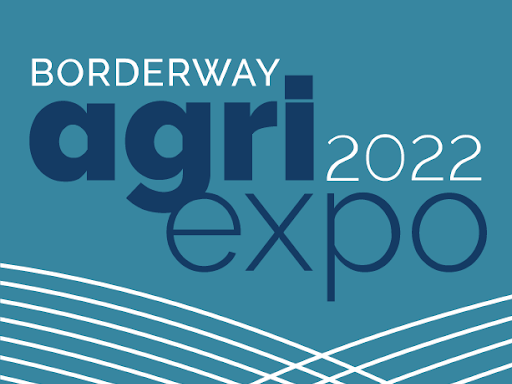 October 2022
Fullwoodhead Dairy Supplies at the Borderway Agri Expo - 28 October 2022
Fullwoodhead Dairy Supplies will be attending the 14th Borderway Agri Expo, at the Borderway Mart, Rosehill, Carlisle. The UK's largest autumn livestock showcase and the place where the farming community meet and compete. Hosted by Harrison & Hetherington at Borderway Mart, Carlisle, there is lots to celebrate throughout the day, but nothing more so than the Great British Livestock!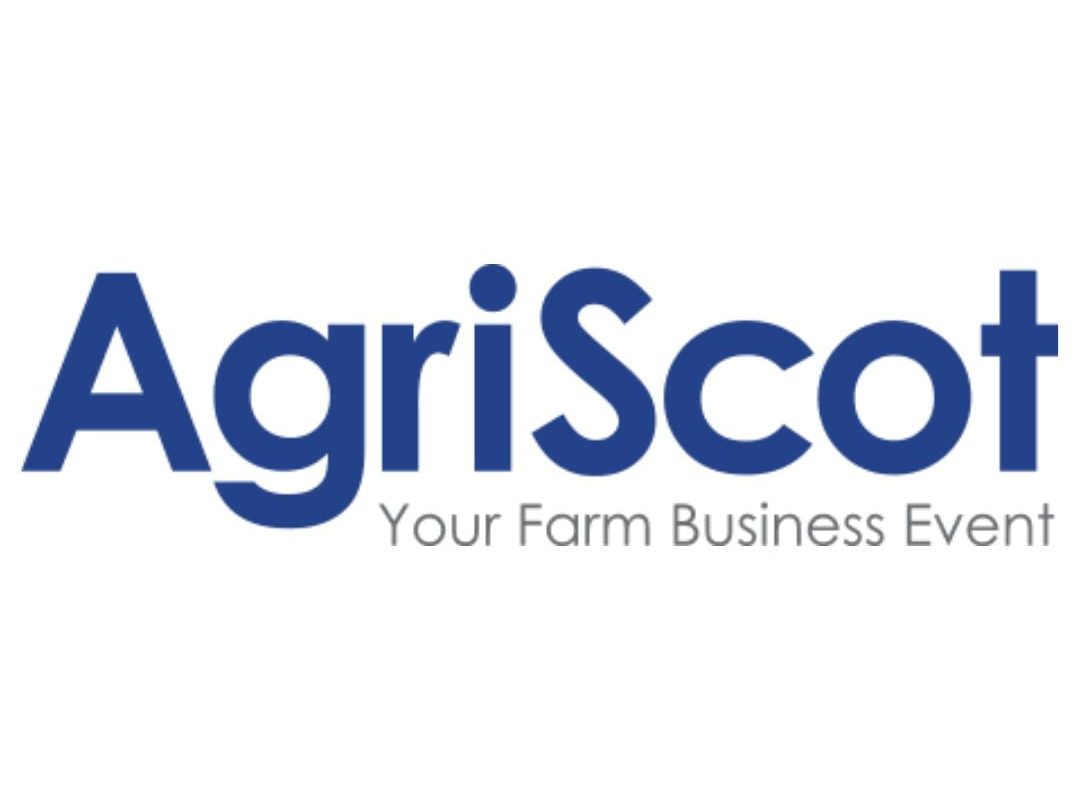 November 2022
Fullwoodhead / Dairypower at AgriScot - 16 November 2022
Fullwoodhead Dairy Supplies Ltd will be attending AgriScot, in Ingliston, Edinburgh the UK's No.1 Farm Business Event on 16 November 2022 after a long-awaited 3 years!
Book a Demonstration
Reap the full benefits of our custom install slurry management solutions and find out more about our cutting-edge industry-leading slurry management systems today. Visit our website at www.dairypower.com to book a demonstration of our exceptional products.