Intensive indoor pig farming is the most common method of pig production. Keeping pigs indoors allows for increased productivity and efficiency when farming a large number of livestock. Most pigs in North America have less than one square metre of space requirements each. This means that the farmer needs to provide the safest, most comfortable accommodation as possible for their hogs, ensuring their health and well-being are taken care of.
There are a number of major pollutants that must be limited to help maintain the health of your pigs since some can be detrimental to animal health and productivity. It is also important to limit pollutants for the health of your employees as well!
Air Quality in Your Pig Pen
Air quality is a significant factor taken into consideration when building a hog barn, as when housing confined livestock, ventilation is of utmost importance. Our Smart Manure Aeration System massively improves air quality in barns of this kind and also reduces harmful ammonia and methane emissions from the slurry. This will provide optimum living conditions for your hogs. 
There are several ways in which farmers can take advantage of their pigs' waste. Pig manure is a low-cost fertiliser and an excellent source of essential plant nutrients such as Nitrogen (N), Phosphorus (P) and Potassium (K). It is frequently used as a replacement for costly chemical fertilisers that are commonly used on grassland and crops on farms.
Hog Manure
It is estimated that a medium-sized hog of 50 kgs (110 lbs) will produce manure weighing an average of 720 kgs (1600 lbs) in one year. If you add food waste, the annual total faeces of just one medium-sized pet pig can exceed 1000 kg (2200 lbs) Consequently, it is advisable to build a waste management policy, in advance, that is compliant, sustainable and environmentally friendly.
Our state-of-the-art Smart Manure Aeration System is one of the best solutions for pig manure management. Utilising the pig manure in combination with our unique manure management technology works as the perfect pairing when a cutback in costs and a reduction in chemical fertiliser is required. Why incur additional costs when you can simply utilise the manure you have available from the pigs on your farm?
Swine Slurry Management
Most of the pig manure available in the USA is in a liquid form and is frequently referred to as slurry in IRE/UK. The nutrient content of this manure is closely related to the solids or Dry Matter (DM) content present in the manure. The solids content is variable depending mainly on the amount of water added either in the feeding and watering of the pigs or from outside sources such as the washing of houses, leaks, spills or from roofs, open tanks or dirty yards. 
Good manure management in the pig unit will ensure minimal dilution with water. This will result in reduced storage and transport costs for the pig producer and a product with higher solids and nutrient content for the customer farmers. Pig manure that contains 4.3% solids is considered to be of reasonable quality. Good quality pig manure will contain more than 5% Dry Matter solids.
This is where Dairypower's one-of-a-kind Smart Manure Aeration System solution can step in and take control of all of these aspects of swine manure management. Our expert team has installed this Smart Manure Aeration System for hog manure management in thousands of locations throughout the world.
You can see one of our latest installations here:
Along with further information regarding this install here: 
Transforming Manure Management on a Canadian Hog Farm
Working in close contact with agricultural experts and the needs of each specific farm with different requirements our team has adapted this product to the specific requirements and needs of each hog facility.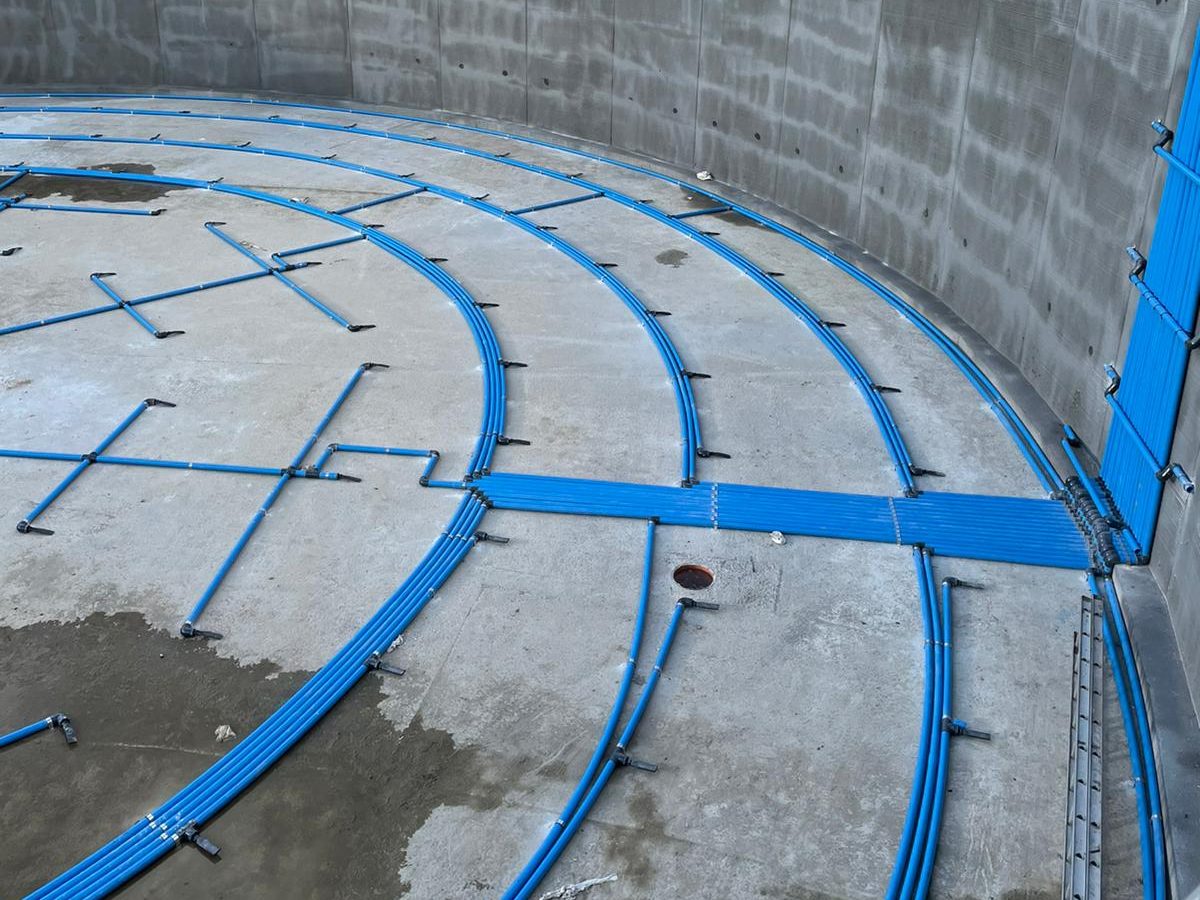 Smart Manure Aeration System
Our industry-leading Smart Manure Aeration System can assist you in managing your hog manure cleaning and storage facilities. We designed our manure aeration system to be adaptable to almost any size storage tank. In addition, the Smart Manure Aeration System has become known as one of the most cost-effective solutions for pig manure management. 
Our system works on a low-pressure, high-volume basis. A roots-style blower pump and energy-efficient drive unit supply air via the Dairypower patented rotary valves to non-return outlet valves fixed to the base of the tank. Each outlet branch sequentially aerates a section of the tank, until the entire tank is fully aerated. The simple physical action of rising air bubbles mixes and moves the slurry and creates an aerobic environment with no need for any further agitation.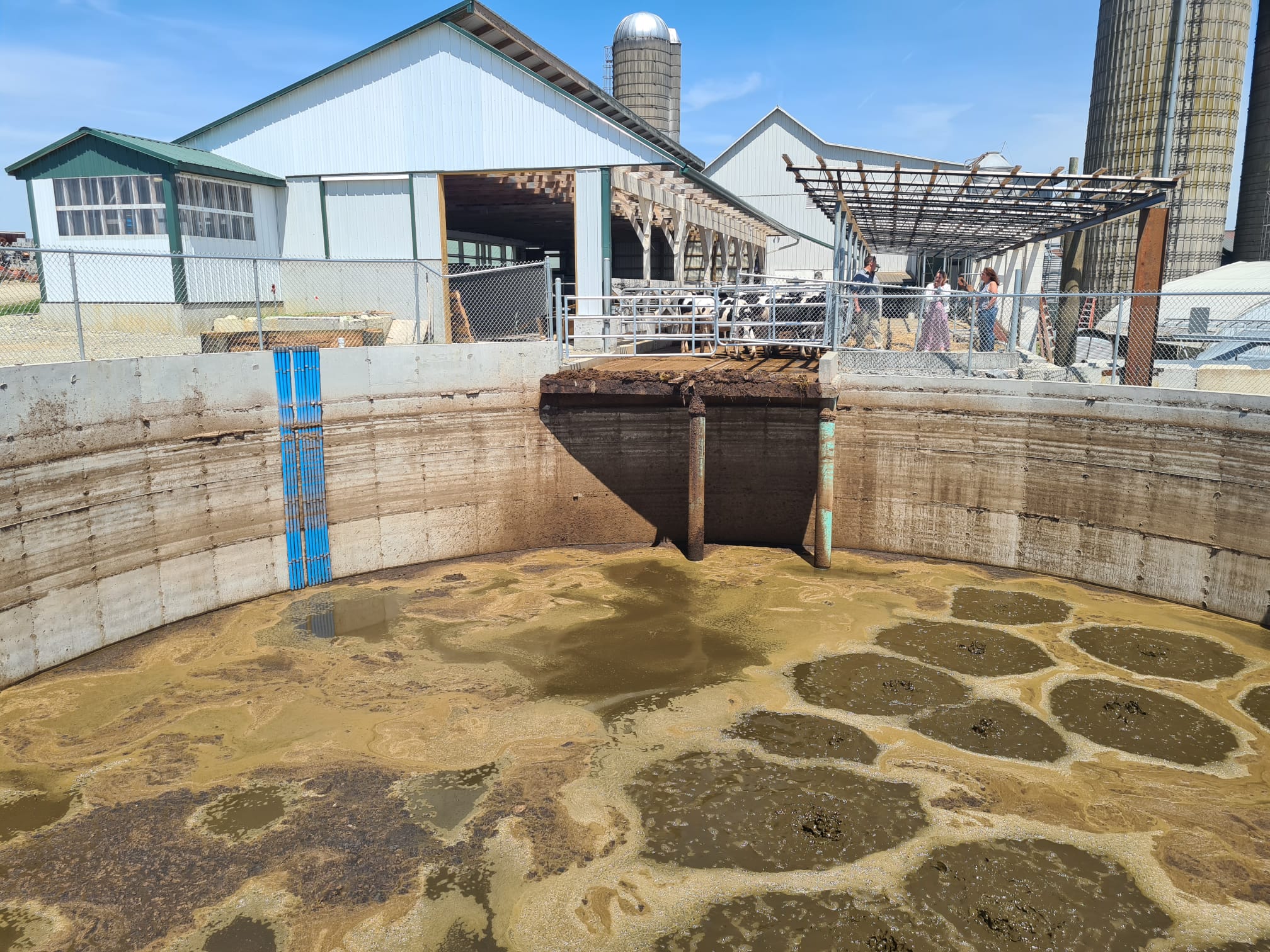 This system avoids the need for the traditional tractor agitation method, which can potentially be harmful if not handled properly. Our bespoke aeration system ensures we are consistently using environmentally friendly methods for keeping the manure in a homogeneous, pumpable state. Since the introduction of our bespoke products to the Irish market in 1998, we have expanded to a point where there are now more than 4000 systems in operation worldwide, which is a testament to the quality and effectiveness of our flagship product.
One of the greatest benefits of this system is that it boosts the grass regrowth rate by enhancing the Nitrogen content of the manure. Nitrogen is one of the most important nutrients for increasing silage field yields and if you use our system the Nitrogen can increase up to 70% in the manure, which in turn will lead to increased yields on your silage grounds, with the availability of these additional nutrients.
The grass regrowth rate will be boosted by 14% when using our aeration system

Our Smart Manure Aeration System can be custom designed to the specific size and shape of your manure storage facility and can be retrofitted to any tank, regardless of its size and structure. Many of our clients who have installed the Smart Manure Aeration System on their farms have seen their fertiliser costs reduced by up to 50% with the integration of our system. These significant cost reductions cannot be ignored!
Find Out More
To find out how you can reduce on-farm costs and harmful emissions with our Smart Manure Aeration System, and our other cutting-edge industry-leading manure management solutions please visit our website at www.dairypower.com to book a demonstration via our website.