Slurry Management Systems Installed in Co. Louth
In the first week of November 2021, we were hard at work installing a new Eco Clean Rope Scraper in Co.Louth. With four passages of 90-metre-long Eco Clean Rope Scrapers installed, the new scrapers allowed them to manage their slurry easily by pushing it towards their tank.
Better yet, on this install, the farmer chose to upgrade to HD Double Cleaning Scraper Blades. Carefully designed by our team for the best results, these blades maximise efficiency and keep passageways exceptionally clean for cows.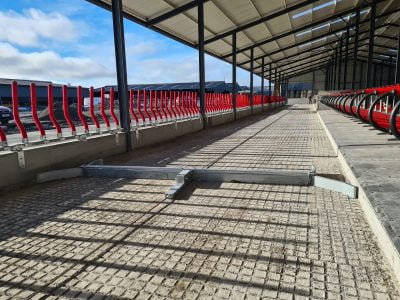 Keeping Animals Safe with our Eco Clean Rope Scraper
When we first designed the Eco Clean Rope Scraper, we wanted to make sure that it worked efficiently and was as cow-friendly as possible. Now over 30 years later, we are still using the same high-quality scraper blades.
As one scraper is cleaning a passage, the other simultaneously backs up. This creates a faster and more productive cleaning cycle. With our Eco Clean Rope Scrapers installed in four passageways, these happy cows are sure to have a trouble-free winter thanks to the optimal cleaning capabilities of our scrapers, keeping the passageways and cubicles exceptionally clean.
We know that cow comfort is as much of a priority to our farmers as effective slurry management. That's why when installing our Eco Clean Rope Scrapers, we ensure that cows are unbothered by the movement of our scrapers. Thanks to their low profile, cows are easily able to step over them, keeping animal welfare at the top of our priorities and keeping their feet in the best condition possible.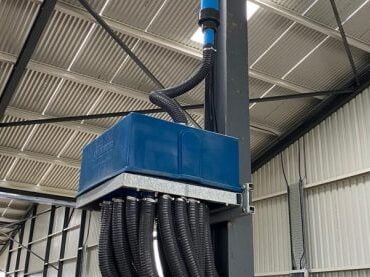 Smart Slurry Aeration System
This Co.Louth farm puts slurry management at the top of their priorities, so they also have an 86 manifold Smart Slurry Aeration System as part of their farming set-up.
Installed by Cookstown Dairy Services, Cookstown, Ardee, Co.Louth, a Dairypower approved dealer. Our Smart Slurry Aeration System is the most cost-effective and environmentally friendly way of keeping your slurry in a constant, homogeneous pumpable state.
Although we love the countryside of Co.Louth, the winters can be quite harsh. With a robust design and a long-life electric drive unit that operates at high volume and low pressure, your slurry is managed effectively, no matter the weather condition.
The Smart Slurry Aeration System features a one-of-a-kind patented rotary valve that supplies air to outlet branches, fixed to the base of the tank. This then sequentially aerates localised areas of the tank for a set period of time. With no need for manual agitation, savings can be made in time, labour and fuel, with the added benefits that this method also keeps your animals safe by preventing the build-up of hazardous gases such as methane and hydrogen sulphide.
Get in Touch
We are proud to have helped this farm in Co.Louth to manage its slurry with maximum efficiency thanks to the use of our Eco Clean Rope Scraper and Smart Slurry Aeration System.
With exceptional quality control and customer service, we want to make slurry management simple for you. Get in touch with our team below to see how we could help you to farm more efficiently.