Smart Slurry Aeration System Installed on Pemberton's Farm
Tom Pemberton and his dad manage a large-scale dairy farm in Lytham St. Annes, England. They also manage a farm shop where they sell their farm produce. In September 2021, we installed a Smart Slurry Aeration System for the round steel tank on their farm. Learn more below about how the install went!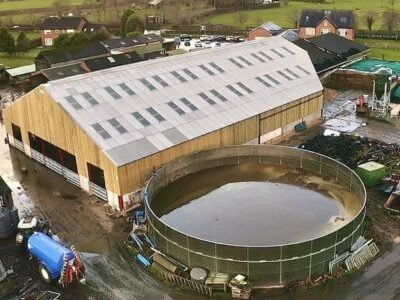 Why They Wanted a New System
The Pemberton's were finding it difficult to manage and agitate their slurry, resulting in a crust forming on the surface of their round steel tank and issues with storage due to the major sediment build-up, as well as moss and grass growing on top.
Why Choose Dairypower
With an expansion in their farming set-up, the Pemberton's wanted to ensure that their slurry was always in a consistent and pumpable state. After researching the range of slurry management systems on the market, they decided that the Smart Slurry Aeration System from Dairypower would be the best option for them.
We took the time to understand the issues they were having, such as their sediment build-up and wanted to eliminate use of slurry bugs, which they were spending a lot of money on throughout the year. Luckily, the Dairypower Smart Slurry Aeration System eliminated these issues as well as reducing fertiliser bills and promoting better grass regrowth when the aerated slurry is spread on the fields.
The installation was quick and simple, only taking half a day to install the pipework. 16 lines of non-degrading uPVC piping were laid in the base of their tank with durable and non-corroding stainless steel fittings. Each line was fitted with a manifold consisting of many self-closing, non-return outlet valves, allowing air to be blown out into the tank, but with no slurry getting back in.
A high-volume, low-pressure pump unit was fitted at a later date when an electricity supply was available. But during that time slurry had been added to the tank and had started to form a crust on the surface. When the system was fired-up, the slurry started bubbling and the crust started to break instantly, with a fully aerated tank in just a few hours.
On the day of the installation, the Dairypower team were on hand to chat to Tom on his YouTube channel about the benefits of the Smart Slurry Aeration System, view the video below:
The Results
Tom and his dad are extremely happy with their install, giving them consistent slurry and eradicating their use and money spent on slurry bugs and preventing crust build-up. Running 4-6 times a day, our system only takes 16 minutes to sequentially aerate his tank each time, costing him roughly 50p to aerate his slurry and eliminate tractor agitation.
Get in touch with our team to see how we can make slurry management simple for you.