Reducing Fertiliser Costs and Improving Farm Safety
With slurry spreading reopening this week in Ireland, it gives us the perfect opportunity to discuss this Smart Slurry Aeration System installation in Co.Cavan.
Now is the ideal time to consider installing a Smart Slurry Aeration Systems on your farm, while the tanks are being emptied – each system is custom-designed to the specific size and shape of your slurry storage facility and can be retrofitted to any tank, regardless of size and structure. That means no matter your farming set-up, our system could be perfect for you.
The Install
In December 2021, our Smart Slurry Aeration System was installed in a newly constructed tank on a Co.Cavan beef unit.
This Smart Slurry Aeration System was installed with a total of 36 manifold lines, meaning it would only take approximately 36 minutes to sequentially aerate the slurry tank at a time. This will run typically 4-6 times per day, at a low cost of approximately less than €1 per day.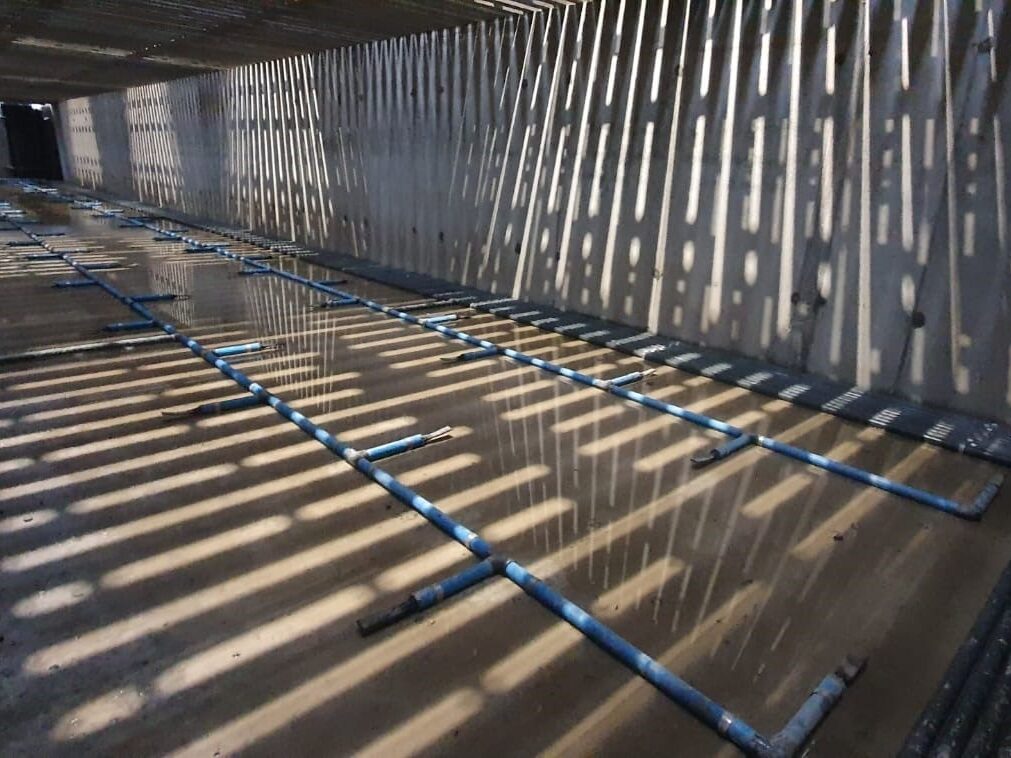 Wait... a Beef Unit?
One of the common misconceptions of our Smart Slurry Aeration System is that it can only be used for dairy. However, this simply isn't true!
Our system has been successful in the beef, dairy and pig industries, regardless of slurry density. The Smart Slurry Aeration System keeps slurry in a homogeneous, pumpable state and will ensure complete consistency and even distribution of nutrients.
Improve Animal-Welfare and Reduce Costs
We all know about the recent and substantial increases in fertiliser prices. Thankfully for this beef farm, our Smart Slurry Aeration System will reduce the amount spent on chemical fertilisers and make their slurry more valuable with the increase in nitrogen values, especially ammonia nitrogen.
Our customers have also seen great benefits in grass regrowth. When grass is grown using aerated slurry, there is a 14% higher growth rate than grass fertilised with non-aerated slurry. Thanks to our system, your slurry is always ready to spread, eliminates the need for tractor agitation and reduces labour hours.
Our Commitment to Safety
We are committed to keeping farmers and their livestock safe. Most farmers are very aware of the dangers involved with agitating slurry with a tractor agitator, one incorrect move could result in fatal errors. Thankfully, our system will completely eliminate tractor agitation and prevent the build-up of dangerous gases such as hydrogen sulphide and methane, producing better air quality and no need for moving your animals. This is a key factor to acknowledge when considering farm safety.
Better yet, our Smart Slurry Aeration System has reduced emissions, odours and the carbon footprint of this farmer, helping to future-proof their farm.
Take a look at this video we made during the install:
Make an Enquiry
This beef farm in Co.Cavan were extremely happy with their Smart Slurry Aeration System and are seeing results! Find out how we can save you time and money with our Smart Slurry Management Systems.