The Story Behind Dairypower
Since it's National Storytelling Week, we thought why not tell you ours. Let's take you on a journey back to where Dairypower Slurry Management Systems began!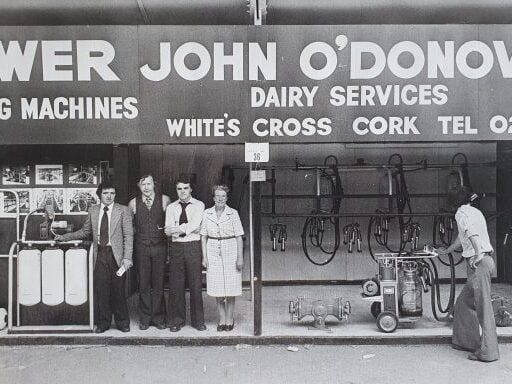 The Beginnings
Commitment to High-Quality Slurry Management Systems
Dairypower are a renowned Irish manufacturer and supplier of agricultural slurry equipment. Priding themselves on quality, they now export systems to over 35 countries worldwide, specialising in the best slurry management solutions for cattle, pigs and poultry.
We are passionate about supporting the future of today's farmers and work closely with them to understand their needs and as a result, improve and enhance our products. We have been hard at it for almost 50 years and with plenty of technical experience, we know what works, and we know what lasts.
Our Business Story
Always Moving Forward
Originally a milking machine company, John O'Donovan founded Dairypower in Cork, Ireland, in 1973. We have now been in the business for nearly 50 years!
After building a reputation with local farmers, their business continued to grow and now has a manufacturing and distribution facility in Blarney, Co. Cork, Ireland.
Now with a distribution facility in Wales and Canada, Dairypower continues to serve farmers worldwide in providing market-leading slurry management products.
Product Development
Dairypower expanded their knowledge into slurry management systems in 1985 when John developed the now market-leading Hydraulic Ratchet Scraper System, known as our Pro-Clean Ratchet Scraper. With its many unique characteristics, it has become the world's safest, cost-effective and trouble-free system.
With the development of their unique and effective systems, Dairypower built a great relationship with farmers which led to Dairypower becoming a recognised brand in the industry.
Over 15 years ago, Dairypower adapted their Pro-Clean Ratchet Scraper system for a new purpose. The Easy-Flo Backing Gate was developed, this integrates an advancement gate with the patented Automatic Ratchet Scraper System. This is the perfect addition to a milking parlour yard to aid cow management and optimum cleaning.
After extensive collaboration with research farms, including Dairy Campus, a test farm and scientific research centre in the Netherlands, Dairypower finally launched their Smart Slurry Aeration System in 1998.
The Smart Slurry Aeration System is proven to be the most cost-effective and environmentally friendly slurry aeration system on the market. With a patented rotary valve keeping the slurry in a homogenous, pumpable state at all times, there are now over 3,500 systems in place worldwide!
Dairypower expanded their scraper range in 2010 and created the unique Rope/Cable Scraper System, known as our Eco-Clean Rope Scraper. This device can clean effortlessly clean passages up to 200 metres long, and by using Dairypower's patented Double-Winch unit, it will eliminate the need for two separate winch units when installing.
Network of Trust
We are also fortunate to have many trusted Dealers worldwide, providing sales, service and support to the thousands of customers who have invested in our slurry management technology. With over 30 dealers across Ireland, many more across the UK and internationally spanning from North America to Thailand and beyond. We have systems that have even travelled as far as 18,000km, all the way to New Zealand!
Find your Nearest Dairypower Dealer
With a worldwide team, you are able to find an expert who truly understands your farming culture.
Enquire Today
Looking to improve your slurry management? Request a quote, we want to hear all about your farm!