Slurry and manure management is one of the most significant factors to consider when designing housing units for animals on your farm. Ensuring that you keep your farm clean, especially in your livestock housing, is one of the main elements of raising healthy, comfortable and thriving animals producing high yields and constantly reaching target weights. In fact, it is an essential task that needs to be performed daily or several times per day and night to keep on top of the never-ending slurry buildup.
Dairypower has become the market leader in creating bespoke solutions for all types of livestock slurry management, ensuring that you save time and money in the process, as well as adhering to the strictest regulatory requirements and working in symbiotic harmony with the environment. 
Let's explore the top 10 benefits of our unique Slurry Management Systems below.
1. Cost Efficiency
All of our specialist systems are designed to operate at the absolute minimum cost possible. We have created a comprehensive range of products that reduce costs and time needed so that these can be used in more important procedures within your business. 
Our Eco-Clean Rope Scraper and Pro-Clean Ratchet Scraper can both be programmed to operate at specific times without the need for human operation. Making this a fully automated system, removing the need for any of your workers to perform this tiring task of scraping slurry with a tractor or hand scraper, directly saving time and money costs. 
With our class-leading Smart Slurry Aeration System, we have factored cost efficiency into this product. If you use this system you will have savings on fuel, labour and fertiliser costs, in addition to saving time for more important tasks on your farm. Our Smart Slurry Aeration System could be the easy fix to the relentless additional labour when manually agitating slurry. With this system an average return on investment (ROI) would be between four to six years, making it extremely commercially viable.
2. Utilising Slurry on your Farm
Commonly produced in large quantities, animal slurry of all kinds needs to be handled effectively. The slurry is loaded with vital nutrients and could be the perfect solution for the grass regrowth rate on your farm, as well as the ability to have readily available slurry to spread at any time you may wish. It is as simple as driving in with the tanker, hooking up, filling and off you go!
Our slurry tech provides the best solutions which allow for environmentally friendly utilising of livestock waste. Slurry is a valuable, low-cost fertiliser and can be made readily available with the use of our aeration system, it's the perfect pairing!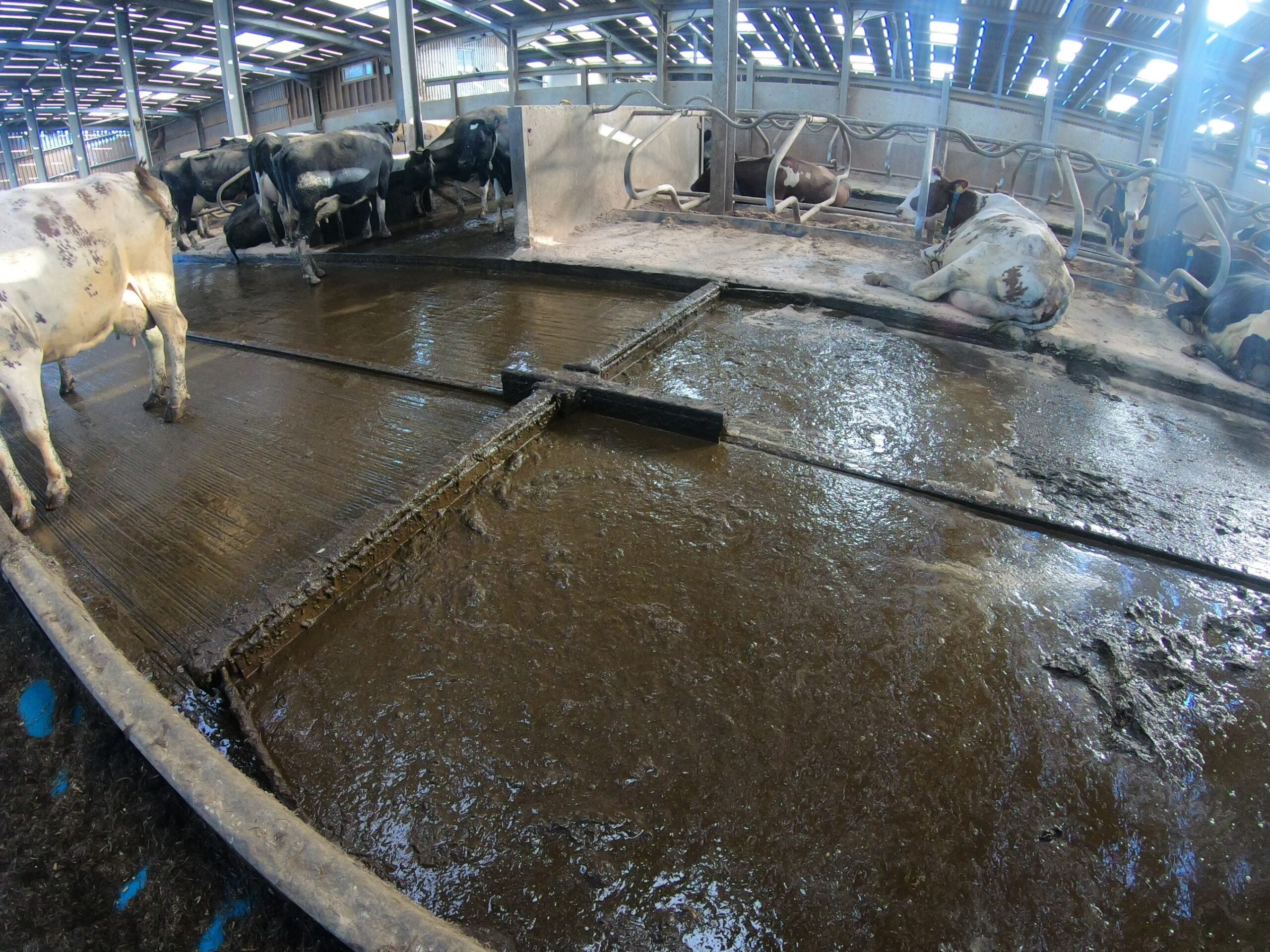 3. Our Scraper Systems Can Operate in All Temperatures
The Eco-Clean Rope Scraper and Pro-Clean Ratchet Scraper systems are designed to operate in all kinds of extreme temperature conditions, making them the only systems of this kind across the globe! 
These slurry scraper systems can operate easily and efficiently in harsh and extreme environmental conditions such as the freezing temperatures reached in countries like Iceland and Ukraine. They can also work on the other end of the spectrum in very hot climates of countries like Israel and the USA. These systems are so well designed that they can effectively operate in any temperature range.
4. Multiple Unique Patents
Our superior slurry management systems are so forward-thinking that we have had to invent, design and create some new machine parts which allow for the most effective operation of our slurry technology. Due to this need, we have patented this new technology and these parts have become an integral operating part of management systems, which increased our appeal to customers. 
For our Pro-Clean Ratchet Scraper system, we invented a patented double spring-loaded tongue that keeps the rail clean and prevents slurry build-up. This unique spring allows the scraper to operate in extreme weather conditions, which is a first of its kind across the globe.
In our Eco-Clean Rope Scraper, we have invented and patented a double winch that operates both ways, avoiding the need for two separate winches, one going in either direction.
5. Automation of Work Tasks
Many of our products include fully automated operation, freeing up time for other tasks on your farm. Our  Eco-Clean Rope Scraper and Pro-Clean Ratchet Scraper systems, for example, have a digital control panel where you can program the time that a scraper works on the floor of your choice, all within an easy-to-use interface on this panel. 
This allows for the simple set-up of the cleaning times at the specific frequency during each working day that your farm requires. 
6. Low Energy Consumption
Our products are specifically designed to work within the lowest energy consumption range possible to ensure money-saving measures, for your business and farm requirements.
7. Promote Animal and Worker Safety
As most of our products are created for use around and near all types of animals, their safety and comfort in their environment were top priorities when factoring in the design of these products.
Dairypower's aeration system completely eliminates tractor agitation. The Smart Slurry Aeration System does not let a hard crust develop on the slurry. This system is a lot safer for both the farmer and their livestock, as it will prevent the build-up of treacherous gases such as hydrogen sulphide and methane, producing better air quality and creating no need for moving your animals. This is a key factor to acknowledge when taking farm safety into consideration.
Our Smart Slurry Aeration System ensures complete consistency of the slurry, resulting in no blockages in slurry tankers! This will reduce machinery handling, ensuring total safety when spreading slurry.
8. Dairy Cow Hygiene During Drying Off
Our slurry solutions assist in creating maximum cow hygiene and comfort during the drying-off period necessary for dairy cows pre-calving. Our Pro-Clean Ratchet Scraper and Eco-Clean Rope Scraper prevent mastitis and foot rot from developing during this time, which can ensure there is no build-up of slurry in the cow housing facility.  The Dairypower scraper systems ensure a lowered somatic cell count (SCC) and total bacteria count (TBC) in milk produced. This system could be a simple solution to a common problem which occurs regularly in dairy management.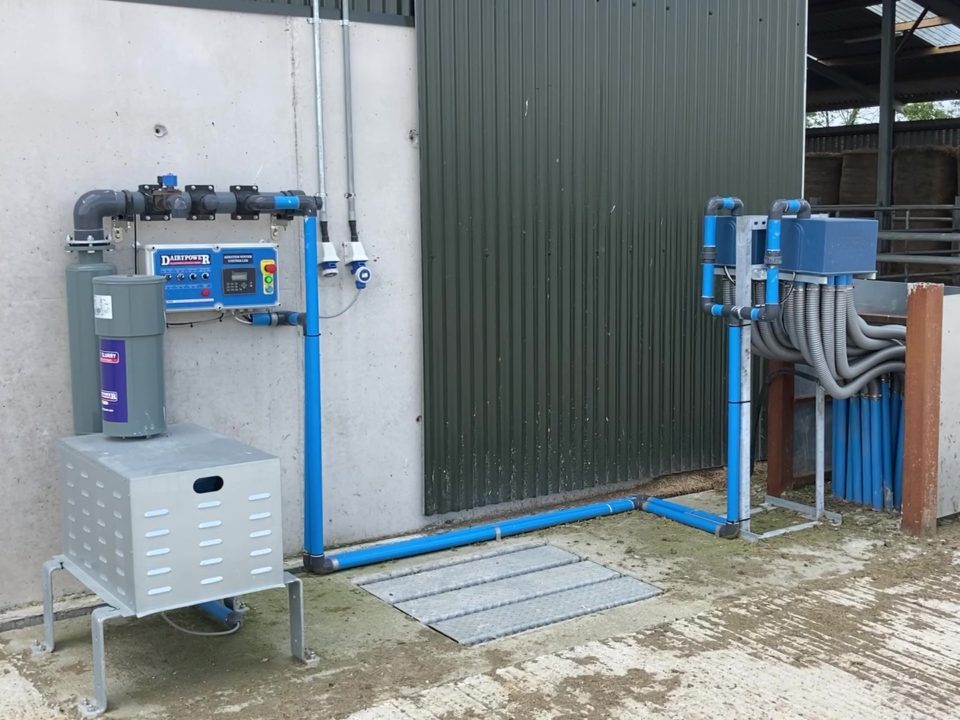 9. Last a Lifetime
It is far too common nowadays for products to have a short shelf-life, for example, three to five years, and after that, they will start to decline in quality and eventually break. Creating the need to buy a new version or upgrade the product. Our promise at Dairypower is to create a Slurry Management system from the best materials that can last a lifetime ensuring you get the highest quality we can deliver. 
Our market-leading products are so robust and reliable that they can perform well during their entire lifetime of use. Our superior quality systems avoid the need for constant updates or replacements, which is a rare feature in the modern slurry industry. We have systems in operation for 30-plus years, and they are going strong! A system that takes less than a couple of days to install, will provide you with a lifetime of hassle-free slurry management!
10. Increase Grass Growth Rate
Grass is a highly essential component for any farm, therefore our systems are designed to increase grass growth rate by 14%. You can avail of this spectacular increase of highly palatable grass with our Smart Slurry Aeration System.

This smart aeration system increases the Nitrogen nutrient content of the slurry. Nitrogen is the most essential nutrient to increase the yield of any plant or crop, No other system has had such a direct impact on this process increasing the yield in obtaining higher quality grass or crops.
Discover More
To discover more information about our cutting-edge industry-leading slurry management solutions and their extensive range of benefits please visit our website at www.dairypower.com, where you can also book a demonstration of our products.