About Dairypower
Dairypower are a leading manufacturer and designer of high-quality slurry management products.
Exporting to over 40 countries worldwide, our systems have been trusted in the most volatile of climates. Specialising in the best slurry management for cattle, pigs and poultry, we are proud to have helped farms around the world to manage their slurry more efficiently.
With a passionate team, we continue to work closely with farmers to help develop our products and improve farming methods for all.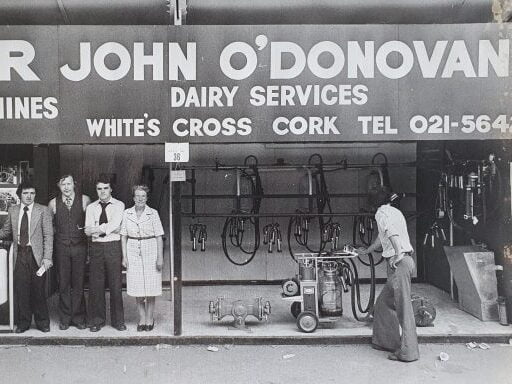 Dairypower's History
Initially set up as a milking machine company by John O'Donovan in Cork, Ireland, Dairypower have continued to improve their reputation by providing high-quality systems for over 45 years. In 1985, we developed the market-leading Hydraulic Ratchet Scraper System, becoming the safest and most economical slurry management system at the time.
Our innovative Smart Slurry Aeration System was introduced in 1998 – developed by working closely with farmers and test farms, including the Dairy Campus in the Netherlands. This system is now the most cost-effective and environmentally-friendly method of managing your slurry in the dairy, beef and pig industries.
Since 2010, we expanded our product range with the Eco-Clean Rope Scraper System, continuing our goal to become the worldwide leader in slurry management solutions.
As of 2022, Dairypower have over 4,000 Smart Slurry Aeration Systems in operation globally. We continue to support farmers worldwide in their journey to reducing their carbon footprint.
Our Products
Browse Dairypower's range of safe and cost-efficient slurry management solutions.
Find your Nearest Dairypower Dealer
With a worldwide team, you are able to find an expert who truly understands your farming culture.
Enquire today
Looking to improve your slurry management? Request a quote, we want to hear all about your farm!