Smart Slurry Aeration System
Market Leading Slurry Technology
Dairypower's Smart Slurry Aeration System is established as being the safest and most cost-effective solution to managing your slurry.
With over 4,000 systems in operation worldwide, this long-life slurry solution has many benefits including savings on fuel, labour and fertilisers, odour reduction, a safer environment for you and your animals, and ensuring that slurry is in a consistent and spreadable state 24/7.
Suitable for use on dairy, beef and pig farms, trust Dairypower to provide the ultimate slurry solution.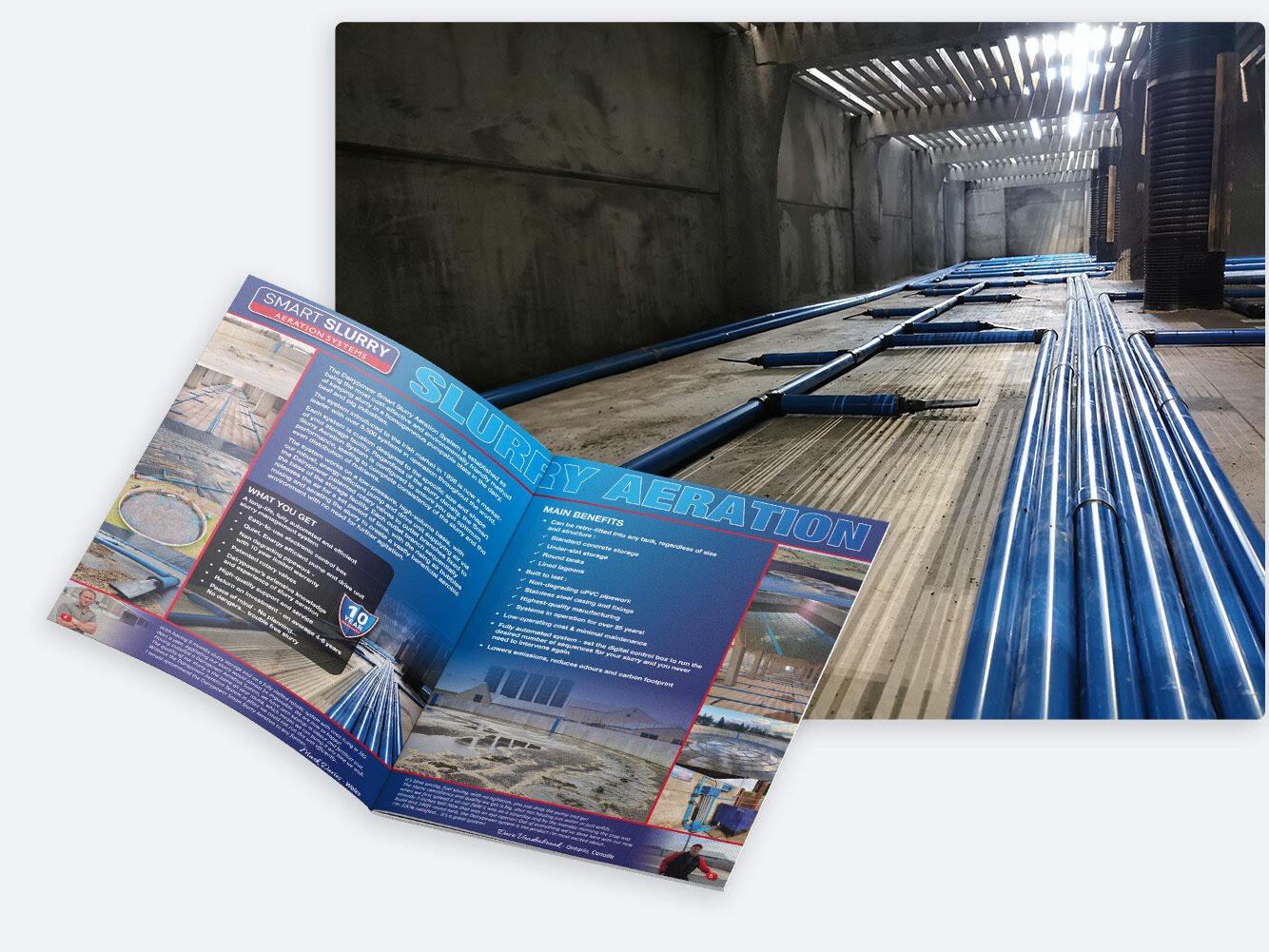 Highest of Standards
Our team of experts are committed to helping you achieve farming excellence
We all know each farm is different, with varying setups and challenges. So we've worked closely with farmers to best understand how we can make slurry management worry-free.
With our help, your slurry will look after itself, becoming consistent, nutrient enriched and ready for trouble-free extraction and spreading.
By working closely with our customers, we can ensure our systems are designed specifically to the farm for maximum benefit.
Smart Slurry Aeration Case Study
Award-winning dairy farmer Mark Davies from Pembrokeshire found that his Smart Slurry Aeration System brought significant cost savings in fertilisers, fuel and labour hours.
Housing 250 dairy cattle 365 days a year, even with a fully slatted floor Mark found that ammonia was non-existent, ensuring that the cows and his workers were safe.
No. Our Smart Slurry Aeration System can run up to 105 lines from one pump unit and control box. This is usually plenty to cover multiple tanks if required from the one set up. With forethought and planning, the initial system would be installed with the best sized pump and controller to accommodate for future additional tanks to be connected – meaning not all tanks need to be complete straight away. This is perfect for retrofitting to older tanks if building a new storage facility.
Our systems are built to last. We have many systems (including our original test units) that are still running with original pipework, pump and control box for over 25 years!
No. Our Smart Slurry Aeration System keeps the slurry in the perfect state for extracting and spreading, at all times. The complete consistency of the slurry means there will be no blockages from solids and at no point would you be extracting just water. The last litre is the same as the first litre!
Yes. It has been noted that with our Smart Slurry Aeration System in place, on-farm slurry smells from ammonia and hydrogen sulphide are reduced, even when spreading.
The Smart Slurry Aeration System works on all densities of slurry, making it a must for any pig farmer using a slatted floor. The fluid consistency even from dense pig slurry, allows for easy extraction and so trouble-free storage.
Enquire today
Find out how we can save you time and money with our Smart Slurry Management Systems. Get in touch to see how we can help you.
Our Other Products
At Dairypower, we stock all kinds of slurry management systems. Even if our slurry aeration system isn't for you, we may have other suitable products.