Easy-Flo Backing Gate
Effective Cattle Control and Cleaning
The Dairypower Easy-Flo Backing Gate Scraper System integrates our automatic hydraulic scraper with an advancement gate.
This robust unit is fully galvanised and can be easily installed in yards up to 20 metres wide.
Have full control of your cattle from anywhere in the milking pit and with the peace of mind that once you've finished the yard will be perfectly clean.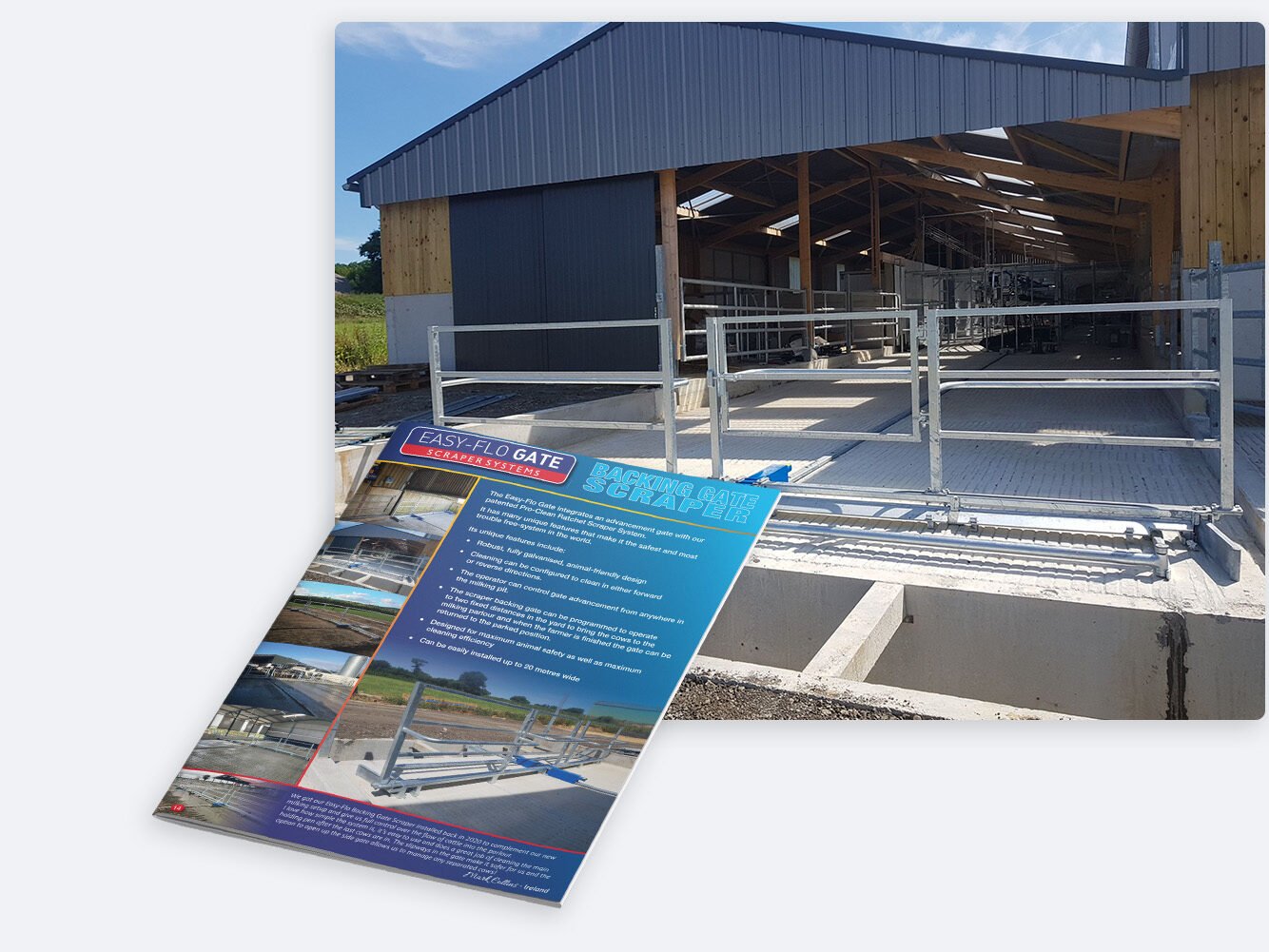 View our Brochure
To see how Dairypower's Easy-Flo Backing Gate Scraper system can help control your cattle and reduce your labour costs, download our brochure today!
We believe in working closely with farmers to understand how we can make their slurry management as simple as possible, aiming to reduce labour hours, fuel costs and improve animal welfare
See our Easy-Flo Gate in Action
Our Dairypower Easy-Flo Gate is combined with our Pro-Clean Ratchet Scraper. The system allows for the gentle management of cattle whilst simultaneously cleaning the yard, covering two jobs in one.
We have fitted Backing Gates of 4m (12ft) in cubicle passages where the farmer then closes off the cubicles and uses that passage as a holding yard when milking.
The Backing Gate can be set to move in two pre-set increments: 6ft & 12ft. Giving you control over the flow of cattle from the yard to your facility.
No. Our Backing Gate scraper system can be run using a single or three-phase motor, allowing us to easily install to your current power supply.
The Backing Gate is a rigid structure fixed to the ratchet rails. Depending on the size of the gate, slipways are added for better access and safety. A hinged gate can also be added.
Enquire Today
If you would like to learn more about our Easy-Flo Backing Gate and how it can help you to control your cows and clean your yard effectively, speak to one of our experts.
Our Other Products
We stock other products from our team of designers and manufacturers that help you to manage your slurry better.