Dairy innovations steal the show at the EuroTier agri-tech event in Hannover
There was a heavy focus on farm safety at EuroTier, particularly products for the handling of slurry.
Dairypower's Managing director Pat O'Donovan and technical manager Rick Crowley were at the event to discuss the Smart Slurry aeration system with farmers that was first introduced to the Irish market in 1998.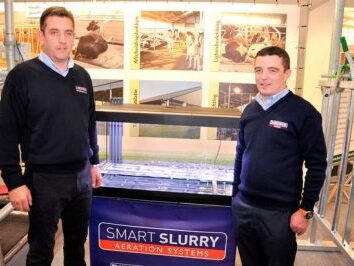 Safe and Cost-Effective Aeration System
With so many farm fatalities caused by slurry gas, more farmers are installing aeration systems in their tanks.
"Aerating the slurry prevents a crust forming on the surface that traps in the gas. It has also been proven to increase the nitrogen content of the slurry making it more valuable as a fertiliser," said Pat.
"There is no need to mix slurry when an aeration system is in place as this is an environmentally friendly method of keeping slurry in a homogeneous pumpable state that is always ready to spread."
The system is relatively simple because it employs a low-energy consumption electric motor and roots blower pump, electric rotary valves and self-closing neoprene non-return outlet valve.
All the piping is 50mm class D uPVC which neither corrodes nor degrades. Working on a time switch, the system is fully automatic and would typically run for three to four periods each day without any need for human intervention.
One main pump is enough for up to 320 cows depending on the logistics of the shed. Furthermore, the running costs have been shown by independent evaluation to be as low as €1 per day. A typical cost for installing the Smart Slurry system is around €25,000 to €30,000 for a 100-cow shed.
Dairypower has installed over 600 of our Smart Slurry aeration systems in Ireland and numerous more worldwide. Read more in this recent Irish Independent article on the EuroTier agri-tech event in Hannover