Slurry management is one of the core concerns when you are farming animals such as beef cattle. It is highly important that sheds, finishing facilities and passageways are kept as clean as possible. This avoids complications such as diseases and infections arising from an unclean area. Beef slurry is well known to be difficult to handle and store. Here at Dairypower, we have created easy and efficient solutions that can handle all of these requirements in a modern and effective manner.
Most beef housing facilities keep their cattle on slatted floors, this allows for the easy movement of slurry to the slurry store made available in the facility, whether this may be a slatted tank, round tower, or lined lagoon.
Our Smart Slurry Aeration System was initially conceived to work exclusively with beef cattle farms and operations, but over the years we have developed and evolved our class-leading product to allow for multipurpose operation. Now the system can be used for either beef cattle, dairy cows or pigs and hogs.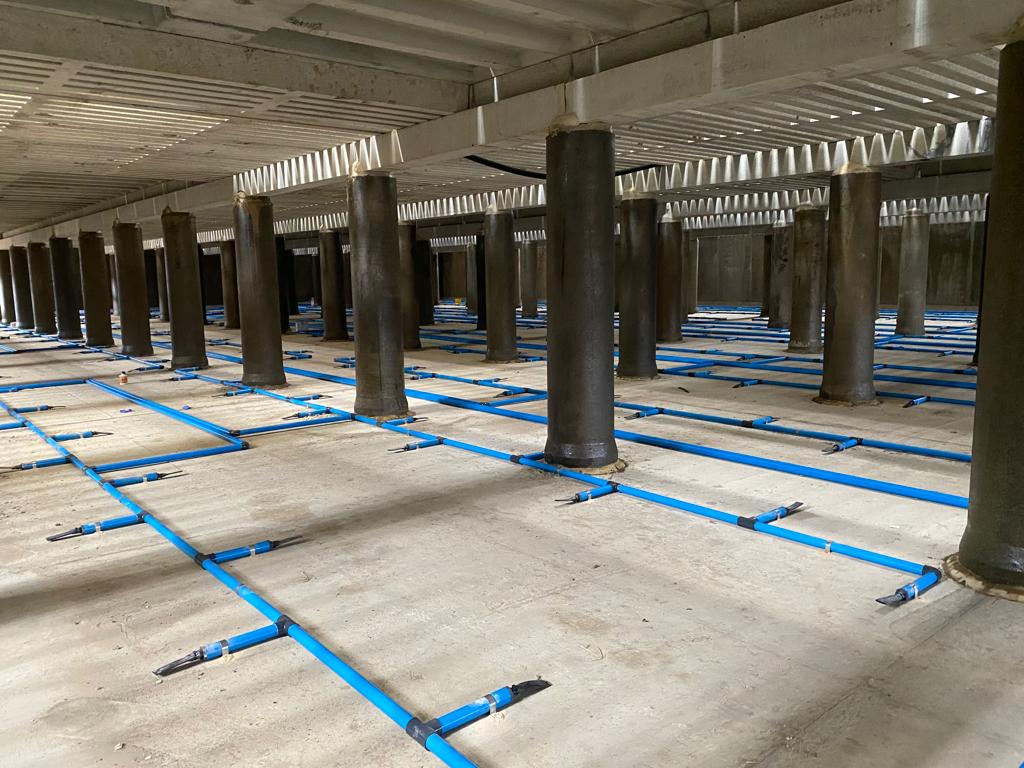 Smart Slurry Aeration System
The industry-defining Smart Slurry Aeration System, which we have perfected over several years of knowledge and experience has become one of the standard solutions for beef cattle slurry management and storage. The Smart Slurry Aeration System can assist you in managing your animal waste and your slurry storage facilities. We designed our advanced slurry aeration system to be adaptable to almost any size storage tank, making it the perfect solution for concrete tanks, round tanks, slurry stores and lined lagoons. The possibilities are endless with this system.
In addition, the Smart Slurry Aeration System has become known as one of the most cost-effective solutions for slurry management within the farming industry sector, which is highly beneficial in these times where the rising costs of living are impacting all forms of agricultural activity, especially with rapidly rising fertiliser and diesel prices.
How Does It Work?
Our one-of-a-kind smart system works on a low-pressure, high-volume basis. A roots-style blower pump and energy-efficient drive unit supply air via the Dairypower patented rotary valves to non-return outlet valves fixed to the base of the tank. Each outlet branch sequentially aerates a section of the tank, until the entire tank is fully aerated. The simple physical action of rising air bubbles mixes and moves the slurry and creates an aerobic environment with no need for any further agitation.
This system avoids the need for the traditional tractor agitation method, which can potentially be harmful if not carried out safely, or with a lack of knowledge regarding dangerous gases. Our exceptional aeration system ensures we are consistently using environmentally friendly methods to maintain the slurry in a homogeneous and pumpable state. Since the introduction of our bespoke products to the Irish market in 1998, we have expanded to a point where there are now more than 4000 systems in operation worldwide, which is a testament to the quality and effectiveness of our flagship product.
One of the greatest benefits of this system is that it boosts the grass regrowth rate by enhancing the Nitrogen content of the slurry. Nitrogen is one of the most important nutrients for increasing silage field yields and if you use our system the nitrogen can increase up to 70% in the slurry, which in turn will lead to increased yields on your silage grounds, with the availability of these additional nutrients.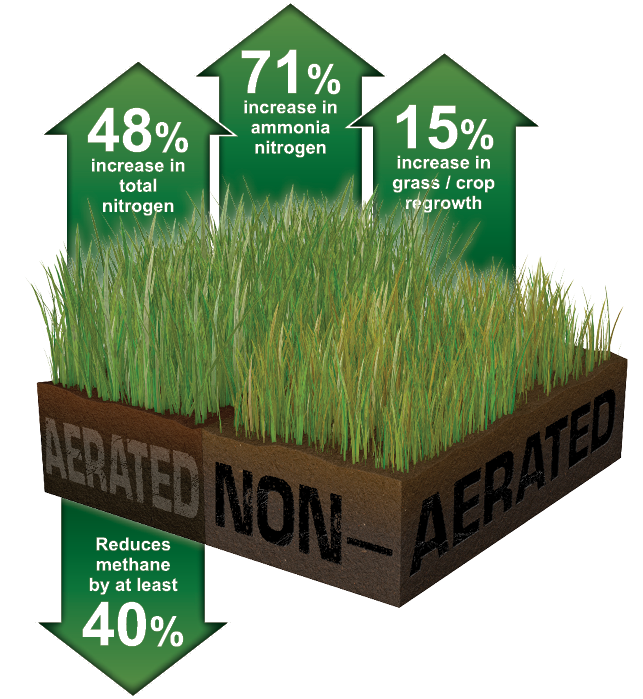 Our Smart Slurry Aeration System can be custom designed to the specific size and shape of your slurry storage facility and can be retrofitted to any tank, regardless of its size and structure. Many of our clients who have installed the Smart Slurry Aeration System on their farms have seen their fertiliser costs reduced by up to 50% with the integration of our system. These significant cost reductions cannot be ignored! Invest in an environmentally sound, money-saving solution today with Dairypower.
Retro Fitting Our Smart Slurry Aeration System
Retrofitting the Smart Slurry Aeration System is a simple process, we just request a clean, swept clean tank prior to the fitting process. Retrofitting our aeration system is a common process, and the Smart Slurry Aeration System can be fitted to any shaped tank, new or existing, regardless of size and structure! 
We have performed thousands of retrofits into many customers' tanks across the globe indicating the popularity of this product, and showing the ease of the retrofitting process, into pre-existing structures.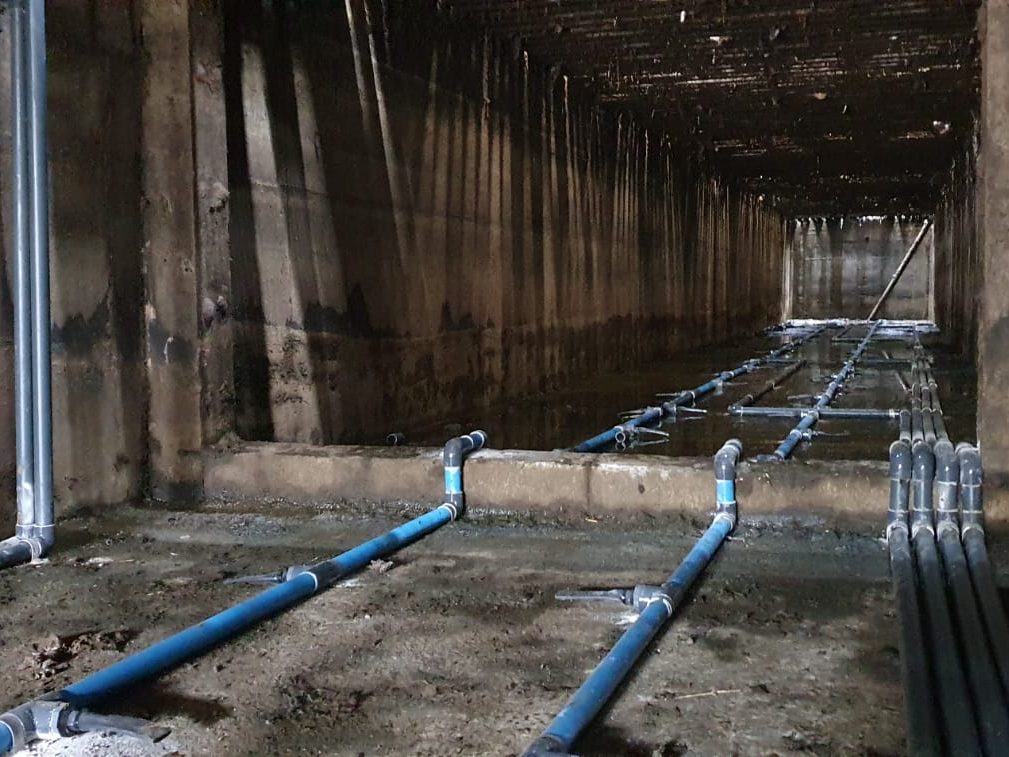 Guidelines for Retrofit
Here are some straightforward guidelines for preparing for a retrofit:
Most importantly, we recommend you do not enter a slurry store without a slurry gas detector – non-aerated slurry can be highly toxic and these deadly gases cannot be smelled.

The best practice when cleaning the tank would be to use a reduction pipe on your vacuum tanker, down to a four-inch pipe.

A submersible pump can provide a simple way of removing the remaining water from the base of the tank.

Lastly, the base of the tank requires a 'swept clean' finish, this can be done several different ways.

Some tanks could have some remaining silt – a skid steer loader can be used to remove these solids or a track machine bucket.
Once these processes have been completed, Dairypower can take over to install this Smart Slurry Aeration System to modernise your beef farm.
Benefits of Smart Slurry Aeration System
Aerating slurry increases total nitrogen values by as much as 48% and increases ammonia nitrogen values by as much as 70%.

Can be newly installed or retrofitted into any tank, regardless of size and structure

Built to last with systems in operation for over 30 years

Non-degrading uPVC pipework

Stainless steel casing and fixings

Low-operating cost & minimal maintenance

Fully automated system

Better air quality: Lowers emissions, reduces odours

Methane production is reduced by 40% minimum in aerated slurry 

Slurry will become available 365 days a year, with no pre-planning required

Trouble-free extracting and spreading of the slurry

No more tractor agitation: removes the harmful gases and reduces labour

Uniform consistency and even distribution of nutrients in the slurry

Increases nutrient values in total nitrogen (48%) and ammonia nitrogen (70%)

Increases grass/crop regrowth (15%)

Savings will be made on fuel, labour, fertilisers and your time!

An average return on investment (ROI) of 4-6 years
Discover More
To discover further information about our cutting-edge industry-leading slurry management solutions for Beef Cattle or any other animals, please visit our website at www.dairypower.com. Book a demonstration of our Smart Slurry Aeration System today and see it in action!