In the modern farming era, the need has arisen to automate as many processes as possible in order to streamline as much of the labour process as possible. This can ensure improved productivity while cutting down on labour costs as well as time.
Our bespoke slurry management solutions are specifically designed with these factors in mind, in combination with animal safety and farm efficiency. We have created ultra-modern technology solutions for every possible type of slurry handling requirement.
The Importance of Dairy Hygiene During Housing Period
Good hygiene over the housing period is of the utmost importance to reduce the risk of cows contracting mastitis infections among others. Mastitis in cows is frequently caused by bacteria that have gained access to the udder through the teat canal, during the drying-off period.
Drying off cows requires a lot of care, time and excellent hygiene. The drying off or dry period gives the cow and her udder a chance to recover and repair for the upcoming lactation. It is a crucial time when there is a high likelihood of new udder infections occurring from the environment, even though clinical signs may not be seen until lactation. This is also an all-important time for curing long-term infections, thereby reducing the number of high somatic cell count (SCC) cows and repeat cases of mastitis.
During the dry period, which has already come around for some cows in the herd, bacteria can only enter the cows' udder from the environment. For example, from the soil, manure, contaminated bedding or faeces. One of the main benefits of our slurry scraper systems is that it ensures your holding yard has reached maximum cleanliness and avoids the cows standing in the slurry.
Disease Prevention
Cows are particularly vulnerable to acquiring environmental infections in the first couple of weeks after drying off. The reason for this is because the process of teat end closure takes time to complete after drying off. The keratin plug that naturally forms after dry-off takes approximately two weeks to form and completely seal the teat end.
During this drying-off period, it is vital that cow hygiene is maintained to the highest standard possible, in order to prevent mastitis and foot rot during this time. Great care must be taken to ensure that the cleanliness of the housing yard improves the somatic cell count and decreases the total bacteria count (TBC).
This is where Dairypower can step in with our comprehensive range of product offerings, which take care of these problems and avoid them arising. Today we are going to focus on our industry-leading class Pro-Clean Ratchet Scraper System.
Floor Hygiene Systems
As we have discovered, hygiene standards in accommodation for dairy cattle are highly important with rearing dairy cows and maiden heifers. Dairypower has designed and installed thousands of scraper systems across the globe to deal with these requirements present in any farm dealing with cattle, pigs and hogs. We have crafted a reputation as leaders in providing unique solutions which ensure maximum cleanliness of both your animals and your farm and yards. 
Installing and using one of our Pro-Scraper products will assist with these tasks, ensuring the cattle will not have to stand on slurry for a long period of time. It also has the added bonus of reducing both labour time and the costs of running your dairy farm, allowing farmers to ditch the tractor scraper with the integration of our timed and efficient scraper systems.
We offer a choice of either the Eco-Clean Rope Scraper system or the Pro-Clean Ratchet Scraper System. Either of these unique solutions will scrape the floors, several times a day or night. In this article, we will take an in-depth look at our Pro-Clean Ratchet Scraper System.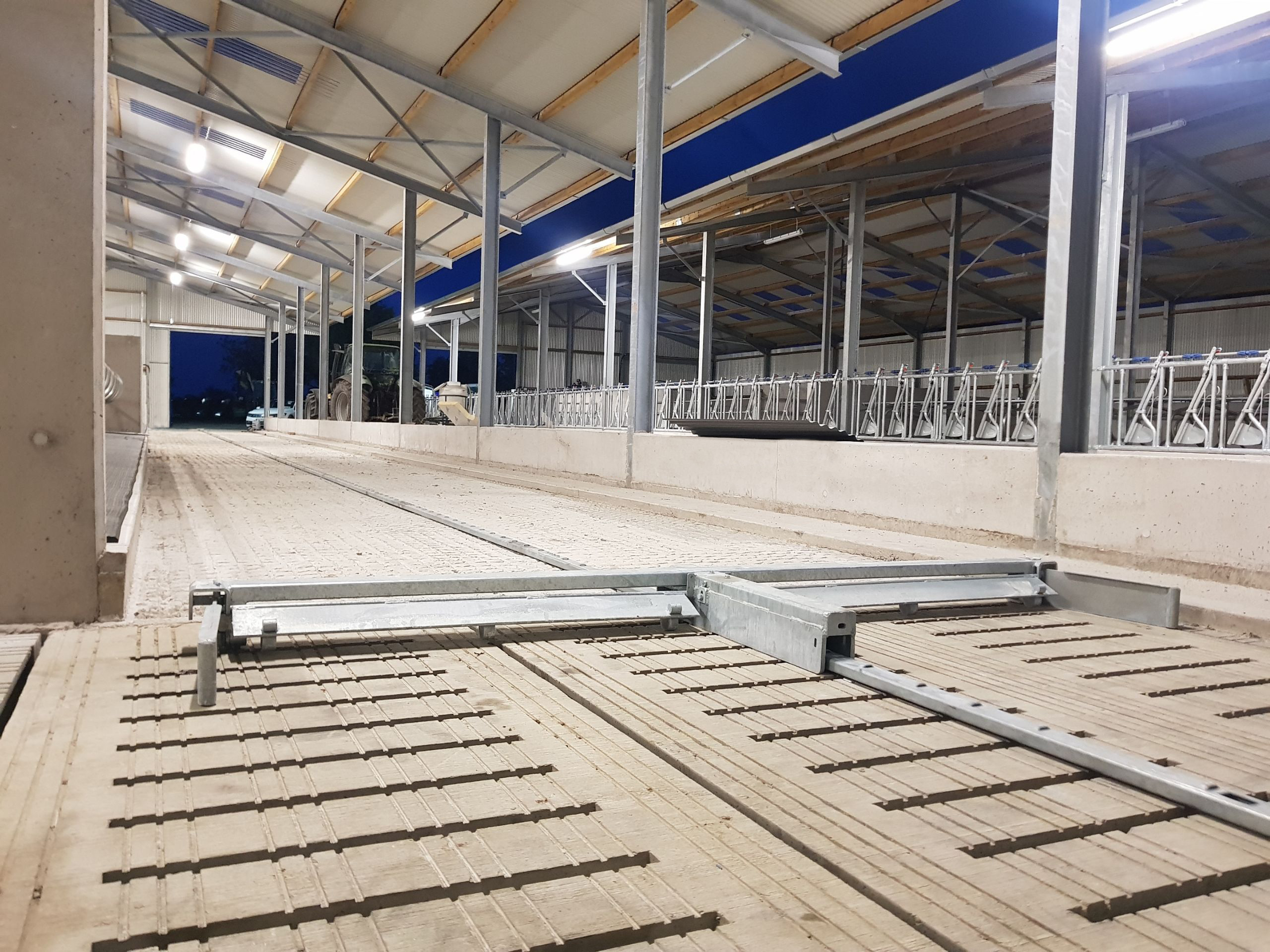 Pro-Clean Ratchet Scraper System
Dairypower has created a patented housing floor cleaning system in the form of our unique Automatic Hydraulic Yard Scraper System, which has come to be known as the Pro-Clean Ratchet Scraper System. 
When we created this system it was designed to operate in all kinds of extreme temperature conditions, making it the only system of this kind across the globe! This slurry scraper system can operate in harsh and extreme environmental conditions such as the freezing temperatures reached in countries like Canada and Norway. It can also work on the other end of the spectrum in very hot climates of countries like Cyprus and Taiwan. The system is so well designed that it can effectively operate in any temperature range.
This type of system ensures your slurry management process can become as simple and effective as possible, reducing the costs and labour hours needed to improve housing hygiene requirements for your animals. Additionally, it can prevent all of the diseases mentioned above and reduce the total bacteria count in the environment.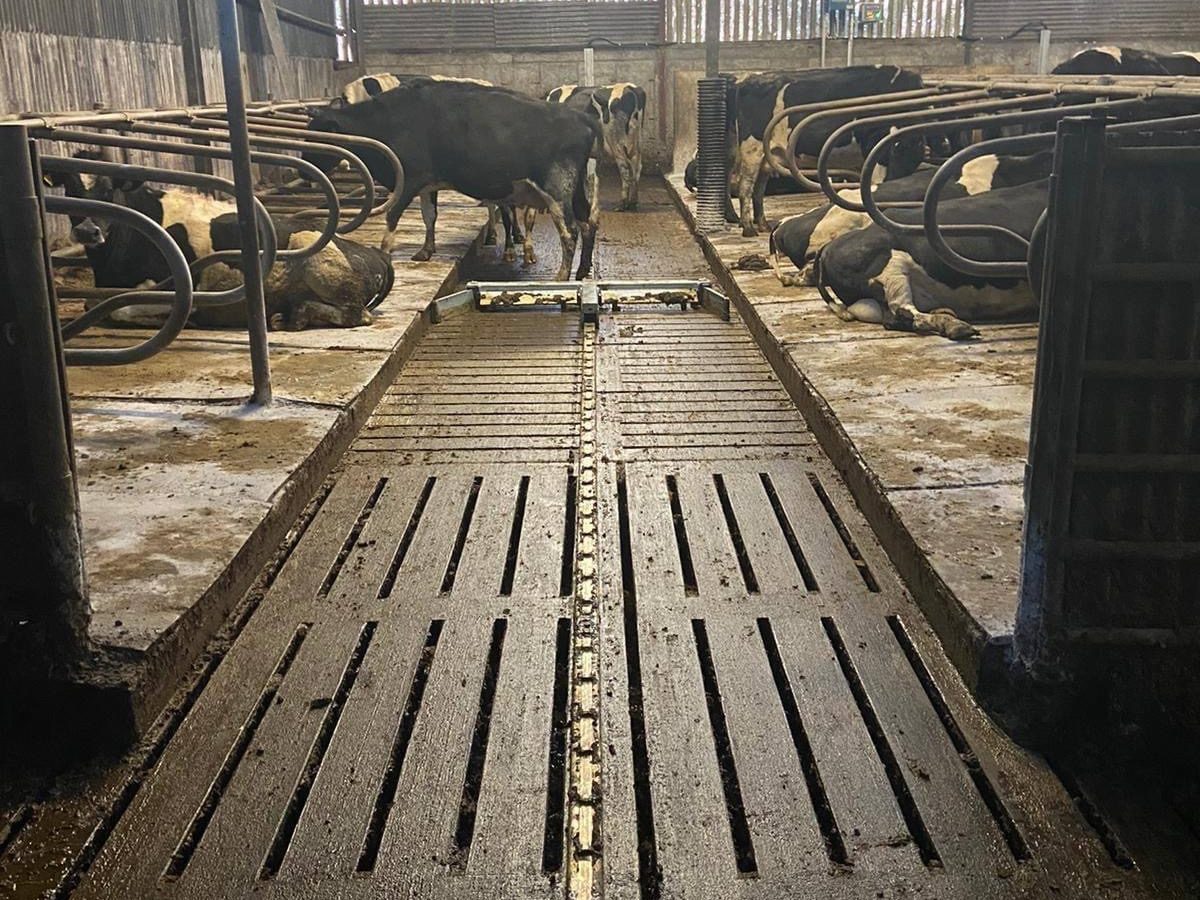 Unique Features of Pro-Clean Ratchet Scraper System
Our patented scraper system has many unique features that make it the safest and most hassle-free apparatus across the globe. This robust, animal-friendly system can be easily installed with little to no pre-installation work and all electrical parts will be installed overhead, far away from the reaches of the livestock and any water. 
The heavy-duty scraper blade and quarto-folded (the metal is folded four times)rail are hot-dip galvanised with a low and smooth profile, designed to prevent all animal injuries. A patented double spring-loaded tongue keeps the rail clean, preventing slurry build-up anywhere on the product and allows the scraper to operate in extreme weather conditions. This is one of our most unique features of this product. 
The Pro-Clean Ratchet Scraper has become widely sought after for some other applications as well! It has been successfully installed in dairy, beef and pig/hog units. The system has also been installed in sewage treatment plants, abattoirs and other industrial projects.
Benefits of Pro-Clean Ratchet Scraper
The benefits of our Pro-Clean Ratchet Scraper System include:
Fully Automated – set up cleaning times and frequency to your needs using the timer settings with the easy-to-operate digital panel

Trouble-free operation in all climate conditions – due to its unique design allowing operation between a vast temperature range

Low-energy consumption

Optimum Cleaning

Easily installed with no pre-installation

Long-lasting – fully galvanised, a heavy-duty system with many in operation 25+ years after install

Works off a single or 3-phase motor

Wide range of customisable scraper blades

Freeing up your time by instigating an automatic cleaning regime – no need for manual cleaning
Consult our in-depth brochure regarding the Pro-Clean Ratchet Scraper System, by clicking here: Pro-Clean Ratchet Scraper System Brochure
Find Out More
To find out more about our cutting-edge industry-leading slurry management solutions please visit our website at www.dairypower.com and book a demonstration via our website.