Transforming Manure Management on a Canadian Hog Farm
Let's take a look at one of our most recent installations in Canada!
Our Smart Manure Aeration System travelled a lengthy 5,255 km to improve the manure management technology on a hog farm in Ontario.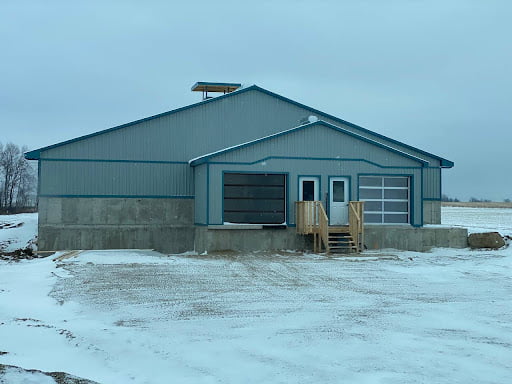 Background
This Canadian hog farmer, who was looking to manage 1500 pigs on a finishing system, was in need of a safe solution to manage manure in his new facility.
Dairypower's approved dealer, Grand River Robotics, had the answer; installing a Smart Manure Aeration System on the hog farm based in Wellesley, Ontario. This system was custom designed for this farmer's new hog barn and would bring a multitude of benefits.
By choosing Dairypower, he opted for the smarter, safer solution when it came to manure management in his new facility.
The Smart Manure Aeration System was installed into a tank with the dimensions 60' x 228', with slats on top, allowing for manure and urine to easily fall into the pipework fitted tank below. Manure management on this farm is now extremely simple due to the combination of slats and our Smart Manure Aeration System. The manure is kept in a homogeneous, pumpable state, 365 days a year with this cost-effective and environmentally friendly system.
Why did this farmer choose the Dairypower Smart Manure Aeration System?
A major concern for this farmer was the deadly gases that are associated with agitating hog manure. The Dairypower system provided by Grand River Robotics was the answer to his dilemma. This system ensures no concentrations of gas in the pit. Not to mention the added bonuses of:
eliminating tractor agitation
reduction in expenditure on labour & fuel
a reliable system with minimal maintenance and running costs
The Smart Manure Aeration System was installed into a naturally ventilated hog barn, with 9' ceiling height at the sides and 10' in the middle. Air quality was a major factor taken into consideration when building this hog barn, as when housing confined livestock, ventilation is of utmost importance. The Smart Manure Aeration System will improve air quality in this barn, and also reduce ammonia and methane emissions. Together, these will provide optimum living conditions for his pigs.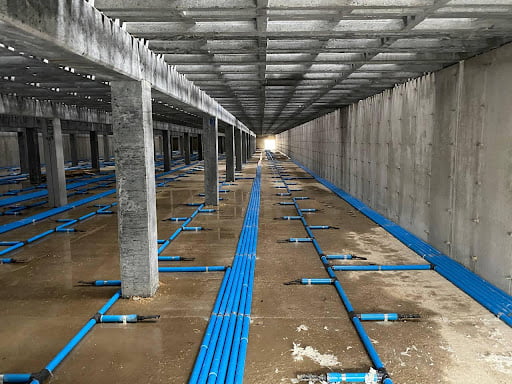 The Install
This is one of many fantastic Smart Manure Aeration System installations by Grand River Robotics in Ontario, and their work is exceptional!
The tank spans 70 metres long with one Smart Manure Aeration System pump unit supplying air via three Dairypower patented rotary valves. These are feeding air to outlets fixed to the base of the tank. Would you believe, there are an impressive 650 outlet valves in this tank? These outlet valves are creating air bubbles along the base of the tank – which will sequentially aerate the manure by the physical action of the rising bubbles, this manure technology is outstanding!
Tractor agitation is now completely eliminated for this Canadian hog farmer, and there is no longer a concern over the build-up of dangerous gases and the release of deadly concentrations of hydrogen sulphide and methane when agitating the manure!